Rep. Conyers hospitalized amid sexual misconduct allegations and House ethics probe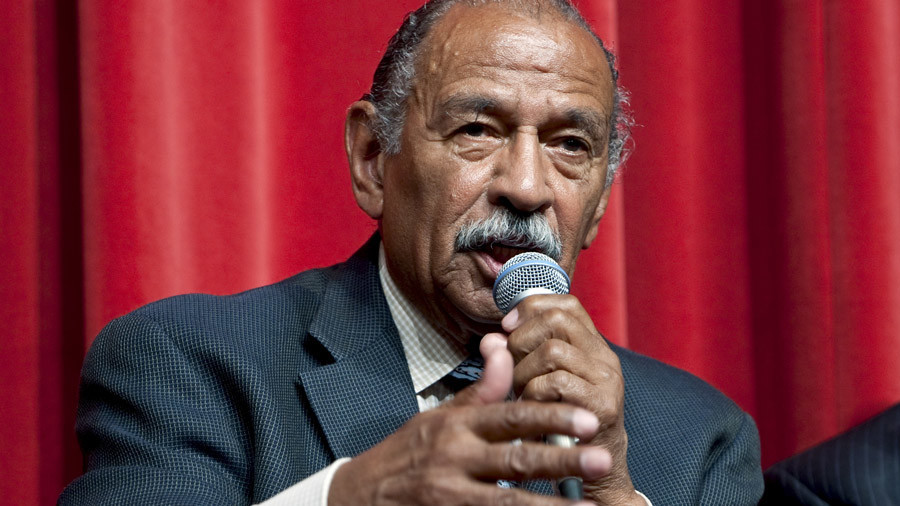 Congressman John Conyers (D-Michigan) has been hospitalized amid accusations of sexual misconduct and a House Ethics Committee probe. Top House Democrat Nancy Pelosi (D-California) has called on him to resign.
Conyers is "resting comfortably in an area hospital, he's doing OK, as well as can be expected for a gentleman that is approaching 90 years of age," consultant Sam Biddle told Detroit's WDIV-TV.
"The congressman's health is not what it should be and a lot of that is directly attributable to this media assault," Biddle said. "The reality is these serial accusers have done this before, we're used to it."
Last week, BuzzFeed published a report that claiming that Conyers settled a wrongful dismissal complaint in 2015 with a former employee, who said she was fired for refusing his sexual advances and "blackballed" into accepting a settlement of $27,000.
Conyers initially denied the allegations. He later admitted he had reached a financial settlement with a former staffer who had accused him of sexual misconduct. He denied having done anything improper, however.
Marion Brown, a former deputy chief of staff to Conyers, told NBC's 'Today' show on Thursday that she was the former employee named in the report.
"It was sexual harassment, violating my body, propositioning me, inviting me to hotels with the guise of discussing business and propositioning for sex,'' Brown said. "He just violated my body, he's touched me in different ways. It was very uncomfortable and very unprofessional."
The House Ethics Committee is investigating the allegations. Conyers, the longest serving representative in the House, announced last Sunday that he would step aside as the top Democrat on the Judiciary Committee.
Pelosi: "The allegations against Congressman Conyers, as we have learned more since Sunday, are serious, disappointing and very credible. It's very sad. The brave women who came forward are owed justice." https://t.co/iGIr3PpZay

— James Arkin (@JamesArkin) November 30, 2017
Conyers has faced numerous calls to resign from fellow Democrats and public figures. Minority Leader Nancy Pelosi (D-California) called on Conyers to resign Thursday morning. Pelosi called the allegations are "serious, disappointing and very credible."
"We are at a watershed moment for our country in the fight against sexual harassment and discrimination," Pelosi wrote in a letter to the ethics panel on Tuesday. "The Committee on Ethics has a great responsibility to proceed expeditiously as well as fairly into any investigation of credible harassment and discrimination allegations."
Representative Pramila Jayapal (D-Washington) has also called on Conyers to resign. "It is not easy for me to reach this conclusion because, as a civil rights activist, I have looked up to Representative Conyers for decades," she said in a statement. "I believe these women, I see the pattern and there is only one conclusion – Rep. Conyers must resign."
On Wednesday, Conyers' Detroit-area attorney Arnold Reed told the AP that Conyers is innocent and has no plans to step down.
Senator Al Franken (D-Minnesota) is also facing calls to resign, as a fifth woman has accused him of sexual misconduct. An army veteran said Franken groped her breast while the two were being photographed together. Franken was first called out by broadcaster Leeann Tweeden, who said the future senator groped and kissed her without consent during a 2006 USO tour.