Hold that Whopper! 57% of US children will be obese at age 35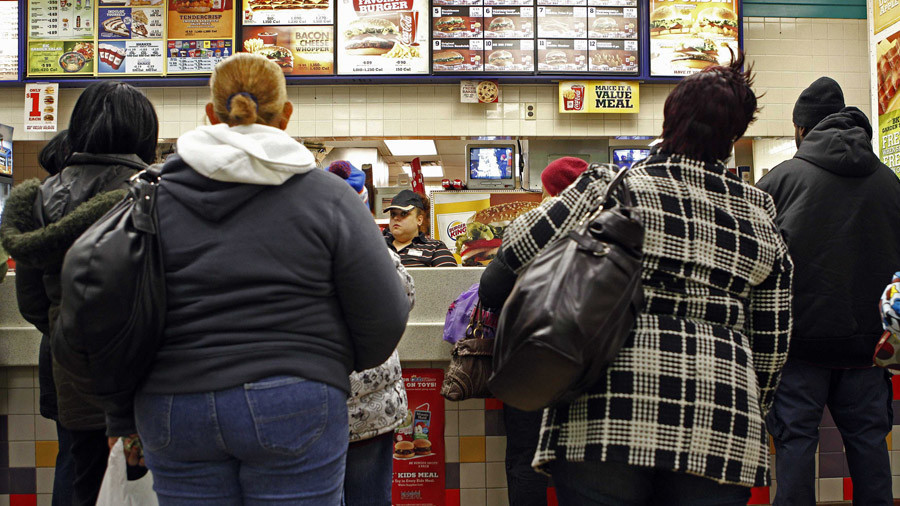 Childhood obesity is shaping up to be a major health problem in the United States, according to a major study published in the New England Journal of Medicine. Obesity among US children has tripled since the 1970s.
Despite various nationwide campaigns to slow the growth of America's burgeoning waistline, a recent study by researchers at the University of Harvard suggests those efforts have fallen flat.
Using a simulation model that forecasts future trends based on height and weight data taken from a pool of more than 41,000 children and adults, researchers from Harvard University's T.H. Chan School of Public Health estimated that a majority of today's youth (57 percent) will be clinically obese by the age of 35 years, and approximately "half will develop [obesity] as children."
"Adult obesity is linked with increased risk of diseases such as diabetes, heart disease, and cancer," said lead author Zachary Ward, as quoted by AFP. "Our findings highlight the importance of prevention efforts for all children as they grow up, and of providing early interventions for children with obesity to minimize their risk of serious illness in the future."
The percentage of children with obesity in the United States has more than tripled since the 1970s. Severe obesity is determined by the body-mass index (BMI, the weight in kilograms divided by the square of the height in meters) of 35 or higher in adults and 120 percent or more of the 95th percentile in children.
More than one-third (36.5 percent) of the US adult population is afflicted with obesity, according to the Centers for Disease Control (CDC).
The estimated annual medical cost of treating individuals with obesity in the US was $147 billion in 2008, while the medical costs for people who have obesity were $1,429 higher than those of normal weight, the CDC reports.
Researchers have also looked at the condition of obesity among toddlers aged two – three out of four of whom will suffer from obesity as adults.
Difference in race and ethnicity also indicate changes in weight, with African Americans and Hispanics more likely to be obese than the white population.
"It is critically important to implement policies and programs to prevent excess weight gain, starting at an early age," said senior author Steven Gortmaker, professor of the practice of health sociology at Harvard.
You can share this story on social media: