Bernie Sanders reveals $146bn relief bill for Puerto Rico and US Virgin Islands
Published time: 29 Nov, 2017 04:00
Edited time: 29 Nov, 2017 07:58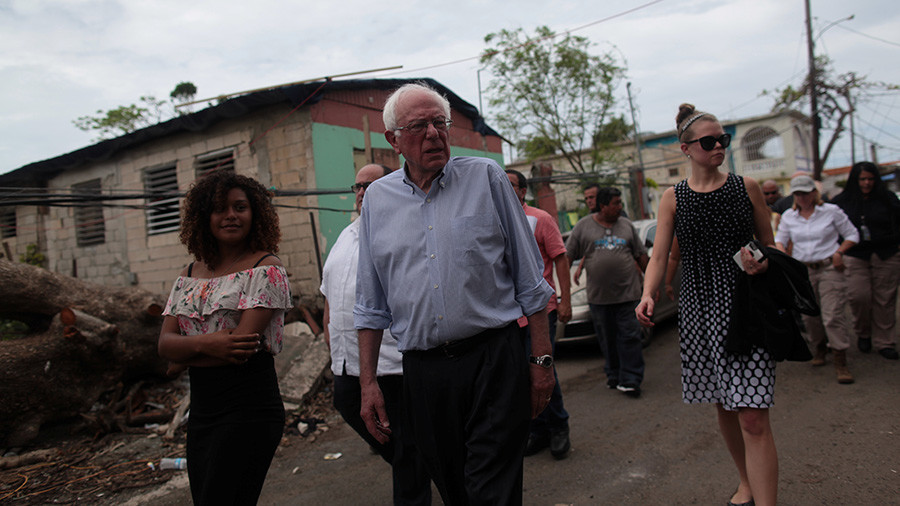 Senator Bernie Sanders (I-Vermont) introduced a $146 billion relief package for Puerto Rico and the US Virgin Islands, which were pummeled by Hurricane Maria earlier this year. The recovery plan is backed by firebrand San Juan Mayor Carmen Yulin Cruz.
The bill, unveiled by Senator Sanders on Tuesday called The Puerto Rico and US Virgin Islands Equitable Rebuild Act of 2017, would give both US territories more federal funding for health care, transportation and education. The legislation also allots the US territories $51 million for economic development.
The legislation would grant a total of $62 billion to the governments of Puerto Rico and the US Virgin Islands in order to address the territories' economic challenges. It will also allot both governments $27 billion for infrastructure projects. Further, the plan awards $13 billion in additional funding from the Federal Emergency Management Agency (FEMA) to rebuild both territories' electric grids using "more modern, resilient technologies," according to a summary of the bill.
The plan has the full support of San Juan Mayor Carmen Yulin Cruz, who previously blasted the administration of President Donald Trump for delivering what she believes to be a poor response in Puerto Rico, The Hill reported.
In late September after Maria made landfall in Puerto Rico, Cruz decried relief efforts being put forth by the Trump administration.
"We are dying here," Cruz said, according to the Guardian. Cruz added that if the administration didn't figure out the logistics of getting aid to Puerto Rico, "what we we are going to see is something close to a genocide."
In total, Maria caused nearly $100 billion in damage to the territory, which was already struggling financially before being decimated by the mega storm.
After learning of the proposed plan, a former member of the Senate of Puerto Rico, Ramon Luis Nieves, touted Sanders' bill as "the closest we have to a Marshall Plan for Puerto Rico," according to the Washington Post.
Senator Elizabeth Warren (D-Massachusetts) commented on the importance of Sanders' relief package, as she and Senator Kirsten Gillibrand (D-New York) both plan on co-sponsoring the bill.
"I was glad to work closely with Senator Sanders on this far-reaching bill so that we can aid our fellow U.S. citizens and help them along a path to full recovery," Warren told the Post.
READ MORE: Puerto Rico power chief resigns amid struggles after Hurricane Maria
The legislation, however, faces an uphill battle against the Republican-controlled Congress.
In October, 17 Republican senators already voted against a $36.5 billion bipartisan disaster recovery bill that included $4.9 billion in loans for Puerto Rico and other territories destroyed by hurricanes, the Huffington Post reported.
Republican lawmakers stated at the time that the legislation was fiscally irresponsible, but the legislation went on to pass in both the House and the Senate.