Puerto Rico power chief resigns amid struggles after Hurricane Maria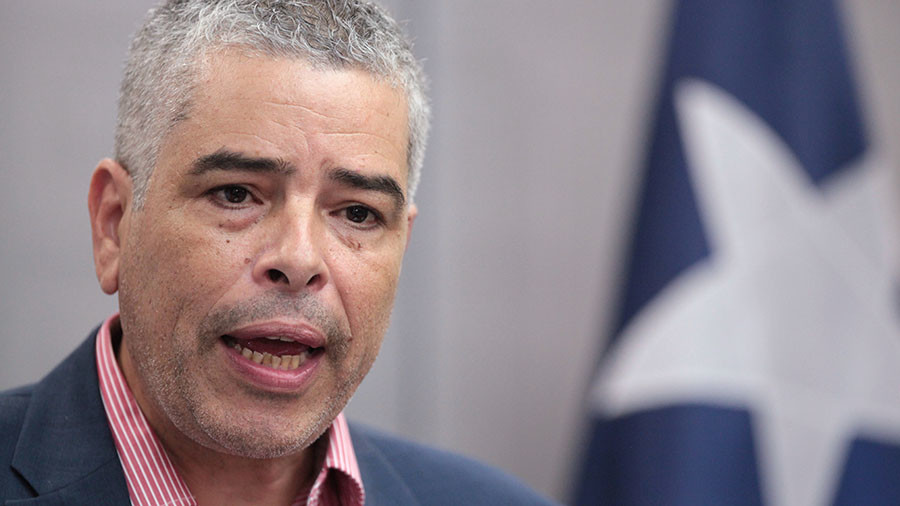 Puerto Rico Electric Power Authority (PREPA) chief Ricardo Ramos has resigned as much of the island remains without power almost two months after Hurricane Maria. Ramos was under fire over a repair contract with the Montana-based company Whitefish.
Governor Ricardo Rossello announced Ramos's resignation Friday. After speaking at a healthcare event in San Juan, Rossello told reporters that the governing board of PREPA will accept the power chief's resignation, Caribbean Business reported.
READ MORE: FBI investigating Whitefish Energy deal canceled by Puerto Rico
"The resignation was worked on…in the best interest of the people of Puerto Rico," the governor said. Although "the executive director is very professional," Rossello added he believes Ramos caused "distractions" while directing PREPA.
On Friday, the Trump administration requested $44 billion from Congress to fund hurricane relief in Puerto Rico, Texas and Florida, impacted by hurricanes Harvey, Irma and Maria this summer.
Most of the amount will go toward helping Florida and Texas, as a full assessment has not yet been completed to address additional recovery efforts in Puerto Rico, said White House press secretary Sarah Huckabee Sanders.
Friday in Puerto Rico58 days after Maria Status.pr reports:*45% power generation*82% of ppl have water (boil advisory remains in effect)*It's 89 degrees there, today*1,822 survivors are staying in 50 shelters that are still open

— David Begnaud (@DavidBegnaud) November 17, 2017
Almost two months after Hurricane Maria struck Puerto Rico, only 45 percent of the US territory has its power restored. Another power outage hit the capital of San Juan on Wednesday, just as some progress was being made to get the island's wrecked electric grid back up and running.
The source of the outage was the same main north-south transmission line that also failed the week before, leaving areas of San Juan without power for hours on November 9, according to officials.
As officials continue to try to fully restore power to the island, Ramos was also facing a plethora of questions regarding a $300 million rebuilding contract PREPA signed in September with a small Montana energy company called Whitefish Energy. Legislators on both sides of the aisle have raised concerns over the Whitefish contract, which has since become the focus of investigations by the FBI, and different watchdog organizations.
Ramos defended the contract with Whitefish, which only had two full-time employees at the time Hurricane Maria struck, in front of the Senate Energy and Natural Resources Committee on Tuesday.
"I authorized the Whitefish contract while we continued to seek additional assistance from others for the complete, multibillion-dollar restoration effort still to come," the PREPA chief said, according to The Hill.
Ramos added that his "priority was securing the immediate assistance of first responders that we desperately needed" for cleanup and restoration efforts on the island following the storm.
The PREPA chief is the second high-ranking Puerto Rican official to resign in recent day, as the Director of the Puerto Rico Emergency Management Agency, Abner Gomez, left his position on November 10.
According to official figures, the death toll from the hurricanes in Puerto Rico stands at 55. However, the Center for Investigative Journalism (Centro de Periodismo Investigativo - CPI) said they have discovered 47 additional deaths through interviews with municipal emergency management, security officials and mayors.