Senate committee advances tax reform amid arrests & partisan acrimony
The Senate Budget Committee passed a sweeping tax reform package along party lines, clearing the way for a full Senate vote. A dozen protesters were arrested at the Capitol, while Democratic leadership boycotted the scheduled talks with the White House.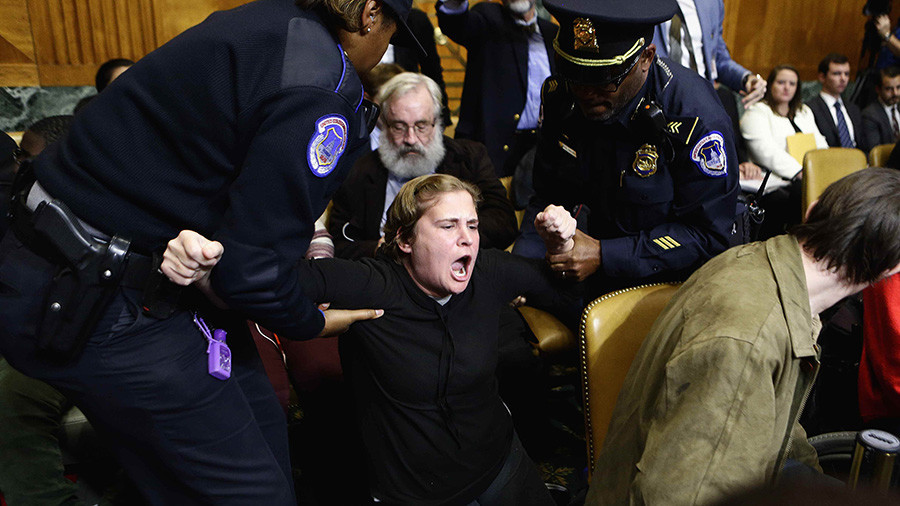 All nine Democrats and two independents, Angus King (I-Maine) and Bernie Sanders (I-Vermont) on the committee voted 'no' on the bill. A number of protesters tried to disrupt the committee meeting as well. At least a dozen demonstrators were arrested, according to MSNBC.
Two Republican senators, Ron Johnson (R- Wisconsin) and Bob Corker (R-Tennessee) considered voting against the measure. They were reportedly persuaded to support the reform by President Donald Trump, who visited the Capitol on Tuesday morning.
Senate Minority Leader Chuck Schumer (D-New York) and House Minority Leader Nancy Pelosi (D-California) were supposed to meet with Trump earlier in the day, but backed out of the meeting after he tweeted, "I don't see a deal."
Trump said Schumer and Pelosi should come back to the table after news of a North Korean missile launch, but they won't "because nothing to them is important other than raising taxes."
Trump called Democrats "weak" on crime and illegal immigration, adding that they used to be "all talk, no action" and now "not even talk."
GOP leaders hope to have the full Senate vote on the bill later this week. The tax package blends sharp reductions in top corporate and business tax rates with more modest relief for individuals.
Anxious to pass a tax overhaul package by year's end with an eye to the 2018 elections, Trump and the GOP leaders scrambled Monday to make changes to the Senate version to woo the Republican holdouts.
The Senate draft completely repeals the state and local tax deduction, which helps reduce the tax bills of more than 43 million families. Senator Susan Collins (R-Maine) won support to amend the bill to allow homeowners to deduct at least a portion of their local property taxes on their federal tax returns.
Republicans hold a 52-48 majority in the Senate, meaning they can only lose two votes before Vice President Mike Pence would need to break a tie.
You can share this story on social media: