Melania Trump's Christmas 'vision' is more frightening than festive (PHOTO, VIDEO)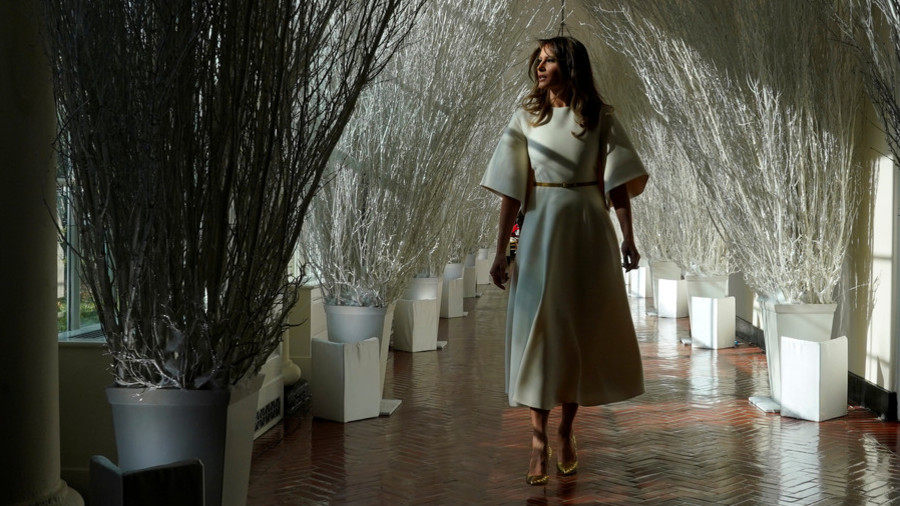 The theme for the this year's White House Christmas decor is supposed to be "time-honored traditions," but looking at this picture, you'd be forgiven for thinking it's more "Grimms' fairy tales."
An image tweeted by Stephanie Grisham, the Director of Communications for Melania Trump, cast the White House in a haunted light as the First Lady sought to "pay respect to 200 years of holiday traditions" at the presidential residence, according to a statement.
READ MORE: Melania conspiracy 2.0: 'Body double' theory lights up Twitter after White House footage
With spot-lighting placed at the base of a hallway lined with dead trees, the result was more frightening than festive. Twitter users weren't shy about delivering their verdict on the terrifying scene, with some comparing it to the corridors of the Overlook Hotel, the haunted hostelry from director Stanley Kubrick's 'The Shining.'
Grisham said that more than 150 volunteers from 29 different US states spent over 1,600 hours installing the First Lady's vision of Christmas. There were signs of life in the rest of the White House, however, with plenty of color on show in a video of the holiday decor posted to Melania's Twitter feed Sunday.