Melania conspiracy 2.0: 'Body double' theory lights up Twitter after White House footage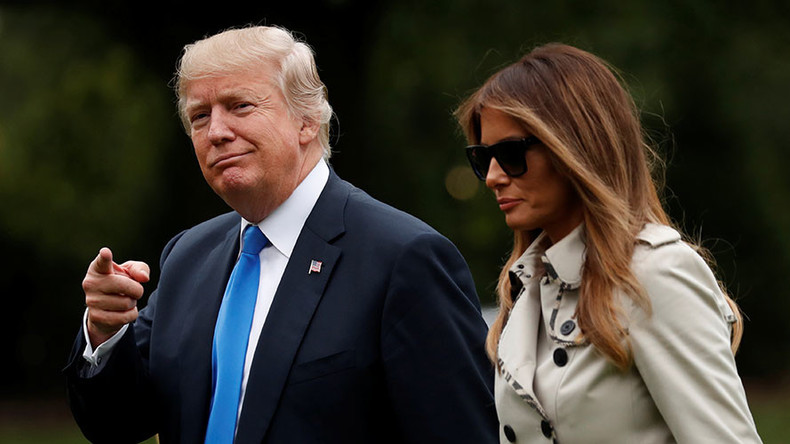 There's mounting 'evidence' that Melania Trump has a 'body double' and was, in fact, not the same woman pictured beside husband Donald on the White House lawn this week. And by evidence, of course, we mean Twitter conspiracy theories.
Social media's obsession continued Wednesday as Twitter users thought they had spotted something unusual in the footage of Trump's comments to the press.
During the short press conference, Trump took time out to acknowledge his wife even though she was standing at his side.
"My wife, Melania, who happens to be right here," he said – and such is the level of mistrust for the US president among commentators, a conspiracy was born.
Others managed to pour cold water on the claims, posting pictures of a smiling Melania with her sunglasses off following the broadcast.
There has been a growing number of Melania-focused conspiracy theories in recent times.
Some have interpreted the first lady's sullen look, and penchant for sunglasses, as a sign that she is, at best, lukewarm about her husband.
Critics cite the pair's visit to Israel in May when Melania appeared to slap the president's hand away. They also note her strange look on inauguration day.
The fascination took a dark turn when some commentators felt Britain's Prince Harry made the sign of the devil with his hands during his meeting with the first lady in September.
Twitter believed the royal was attempting to warn the world of the presence of the anti-christ.
The story eventually came to the attention of the US mainstream media, with CNN stepping in to debunk the latest conspiracy theory.
"No, Melania Trump does not have a body double," a headline on the CNN website read Thursday.
Former agent Jonathan Wackrow, who previously served on the first family detail, told the broadcaster that using body doubles is not standard Secret Service practice.