Tumblr suppressed net neutrality content, users say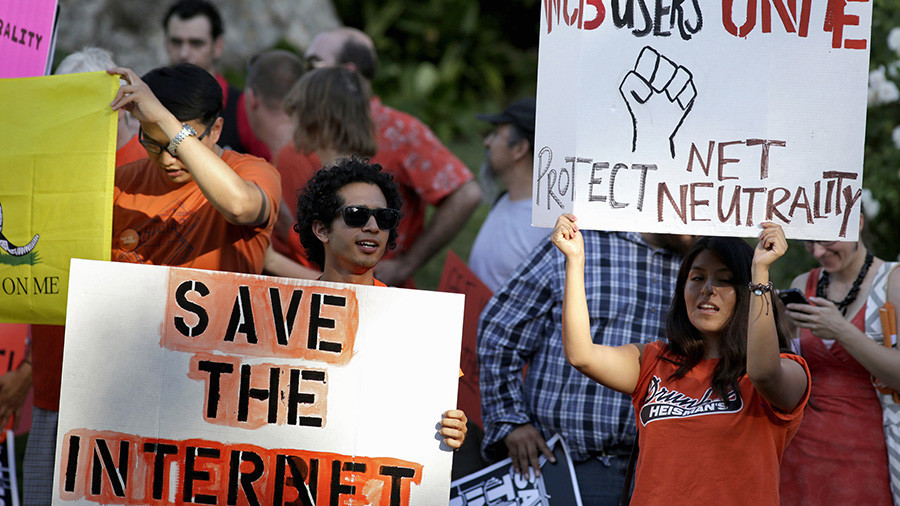 Social media users are accusing Tumblr of unsubscribing accounts from tags related to net neutrality. Many allege that Verizon, the social media site's parent company, is purposefully trying to stop users from seeing the content.
On Monday, Tumblr user polygonfighter posted a message that said the coverage of net neutrality disappeared from their dash "almost entirely over night."
A user by the name eykonto replied that users were "automatically" being unsubscribed from the net neutrality tag, and were not receiving related content that would normally appear on their dashboard.
"It happens to me every time I try to follow it," eykonto wrote. "I'll follow the tag, come back 20 minutes later & I'll for some reason have unfollowed the tag automatically. I think this may be happening to a majority of people in an attempt to silence the resistance."
The original poster then added that they could confirm that Tumblr unsubscribed users from the tags within 20 minutes of following them.
A user by the name bristlee1 then accused Tumblr of "actively trying to silence" any content related to the upcoming vote to repeal net neutrality rules because their parent company Verizon wants to repeal the regulations.
"They have spent literally millions to bring it down so that they can charge you more, slow down your internet and block you from sites they do not deem appropriate," bristlee1 posted.
Users on Imgur and Twitter also said that they were unsubscribed from the tag on Tumblr Monday, with many users accusing Verizon of being behind the glitch.
However, when RT America set up two accounts on Monday that followed several net neutrality tags on the social media site, neither of the users were kicked off following the tags.
RT America reached out to Tumblr by email and is awaiting a response.
Last week, the Federal Communications Commission (FCC) Chairman Ajit Pai announced his plan to repeal a 2015 regulation designed to ensure internet service providers treat all online content and apps equally. FCC Commissioners will vote on the plan on December 14.
When net neutrality regulations were established under former President Barack Obama, the FCC was given the authority to regulate Internet service providers (ISPs) such as AT&T, Comcast and Verizon, as "common carriers," subjecting them to the same rigorous government oversight as public utilities.
The FCC has prohibited ISPs from speeding up, slowing down or blocking any legal content, applications, services, or websites. ISPs were also banned from giving or selling access to "fast lanes" where traffic could be prioritized.
On Monday, Tumblr was one of hundreds of businesses that sent a letter to Pai, calling on the FCC to "maintain the current net neutrality rules and Title II classification of broadband internet."
"The current rules provide the protections necessary to protect net neutrality and ensure the internet remains a free and open marketplace that encourages innovation and supports robust competition," the letter reads.
However, the last time Tumblr's staff blog posted about net neutrality was in June 2016, just before Verizon announced it had finalized the acquisition of Yahoo's core business for $4.8 billion.
After Verizon took over, one employee told The Verge that while the organization was still fighting for net neutrality, the fight "stops at leadership."
On Monday, Tumblr CEO David Karp, who created the blogging site more than 10 years ago, announced he was resigning. Although he did not cite the reason for his departure, Karp did say that he made the decision "at no cost to my hopefulness for Tumblr's future or the impact I know it can have."
"The internet is at a crossroads of which this team can play a fundamental role in shaping," Karp said.