Big Tobacco runs court-ordered ads admitting cigarettes kill 1,200 Americans a day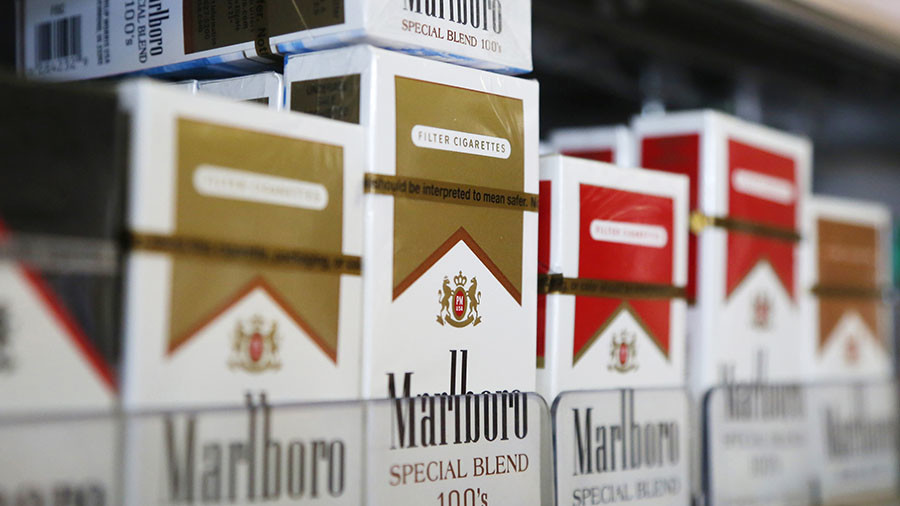 US tobacco companies have launched newspaper and television ads which admit that smoking kills 1,200 Americans every day. It comes after a 2006 court ruling required them to issue "corrective statements" after "misleading" the public for decades.
An example of one of the ads, which began running on television over the weekend, was posted on YouTube by the American Cancer Society Cancer Action Network. A video features a female narrator informing the audience that "a federal court has ordered Altria, R.J. Reynolds Tobacco, Lorillard, and Philip Morris USA to make this statement about the health effects of smoking."
It goes on to state that "smoking kills, on average, 1,200 Americans every day. More people die every year from smoking than from murder, AIDS, suicide, drugs, car crashes, and alcohol combined."
The video lists the numerous health effects blamed on smoking, including heart disease, emphysema, acute myeloid leukemia, and various types of cancer. "Smoking also causes reduced fertility, low birth weight in newborns, and cancer of the cervix," it continues.
Other ads will address the issues of nicotine addition, secondhand smoke (including children's exposure), the fact that companies deliberately designed cigarettes to make them more addictive, and how companies design filters and cigarette paper to maximize the ingestion of nicotine, according to NBC News.
It comes after District Judge Gladys Kessler ruled in 2006 that the four major tobacco companies violated racketeering laws, having "lied, misrepresented, and deceived the American public" about the dangers of smoking for over 50 years. She ordered that the companies run "corrective statements" in the media which would set the record straight about the proven negative health effects caused by smoking.
Years of litigation and appeals from the tobacco companies' lawyers ensued. One of those appeals had to do with the US government wanting the companies to state that they had lied about smoking risks, with the businesses arguing that such a requirement was "designed solely to shame and humiliate." An appeals court eventually ruled that ads could only be factual and forward-looking.
The phrase "here's the truth" was also disputed and blocked, according to AP. The news agency cited a proposed message which would have stated: "Here's the truth: Smoking is very addictive. And it's not easy to quit."
"This was a classic case of a very wealthy set of defendants willing to appeal every conceivable issue time and time again," said Matthew Myers of the Campaign for Tobacco-Free Kids, one of several anti-tobacco groups which intervened in the court case.
The two sides reportedly came to an agreement in 2014 that the ads would be published five times over several months in more than 50 newspapers across the country, and five times per week for one year on primetime network television channels including NBC, ABC, and CBS. The ads are estimated to cost the companies around $30 million, according to anti-tobacco advocates cited by AP.
Three years after that agreement, the ads have finally begun airing, in a move which has been hailed by anti-smoking organizations. "The ads will finally run after 11 years of appeals by the tobacco companies aimed at delaying and weakening them," reads a joint statement from the American Cancer Society, American Heart Association, American Lung Association, Americans for Nonsmokers' Rights, National African American Tobacco Prevention Network, and the Tobacco-Free Kids Action Fund.
The 2006 ruling was the result of a 1999 lawsuit filed by the US Justice Department under the Bill Clinton administration. It sought to recover some of the billions of dollars spent by the federal government on caring for people with smoking-related health problems.
At one time, more than 50 years ago, US media was infiltrated with happy-go-lucky cigarette advertising, with tobacco companies sponsoring hundreds of primetime television shows including 'I Love Lucy' and 'Perry Mason'. Even the children's cartoon 'The Flintstones' was sponsored by Big Tobacco.
US Congress banned cigarette advertising from radio and television in 1970, and later restrictions blocked the industry from advertising on billboards and public transportation. However, tobacco companies still spend more than $8 billion a year on marketing, including print advertisements, mailed coupons, and store displays.
According to the Centers for Disease Control and Prevention (CDC), cigarettes are responsible for more than 480,000 American deaths each year. This includes more than 41,000 deaths resulting from secondhand smoke exposure.
You can share this story on social media: