Search for 3 US sailors missing since Navy air crash called off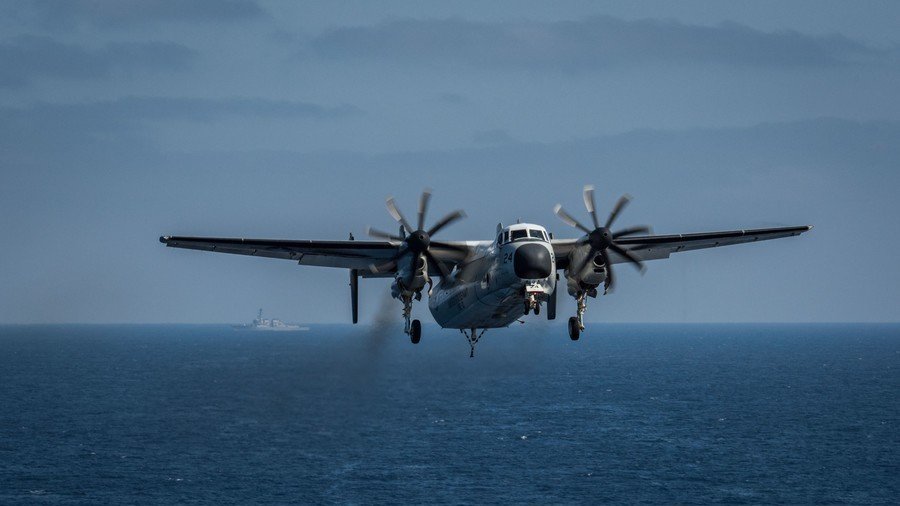 The US Navy has called off its search for three sailors who went missing after their C-2A Greyhound aircraft crashed southeast of Okinawa on Wednesday.
There were 11 crew and passengers onboard when the crash happened, eight of whom were recovered from the water and are now said to be in "good condition."
"Our thoughts and prayers are with our lost shipmates and their families," said Rear Admiral Marc Dalton, commander of Task Force 70. "As difficult as this is, we are thankful for the rapid and effective response that led to the rescue of eight of our shipmates, and I appreciate the professionalism and dedication shown by all who participated in the search efforts."
"The sailors names are being withheld pending completion of next of kin notifications," the Navy said.
Eight US Navy and Japan Maritime Self-Defense Force (JMSDF) ships, three helicopter squadrons and maritime patrol aircraft scoured an area of nearly 1000 sq nautical miles in the hope of recovering the three sailors.
The aircraft was en route to the US Navy aircraft carrier USS Ronald Reagan (CVN 76), which is currently operating in the Philippine Sea.
The cause of the crash is not yet known and an investigation is currently underway. The propeller-powered transport plane involved in Wednesday's crash, a C-2 Greyhound, carries personnel and cargo from mainland bases to carriers at sea. In operation for more than five decades, the plane is due to be replaced by the long-range Osprey aircraft.
The crash is the latest in a series of US Navy incidents this year. Less than a week ago, a destroyer collided with a Japanese tugboat in Sagami Bay, off the east coast of Japan. While in June, seven sailors were killed when the USS Fitzgeraldcollided with a Philippines container ship in the middle of the night, southwest of Yokosuka.
Furthermore, the USS John S. McCaincrashed into a commercial vessel in the Strait of Malacca off the coast of Singapore in August. Ten sailors drowned as a result.
You can share this story on social media: