Palestine warns it will cut off relations with US if its DC office is shut down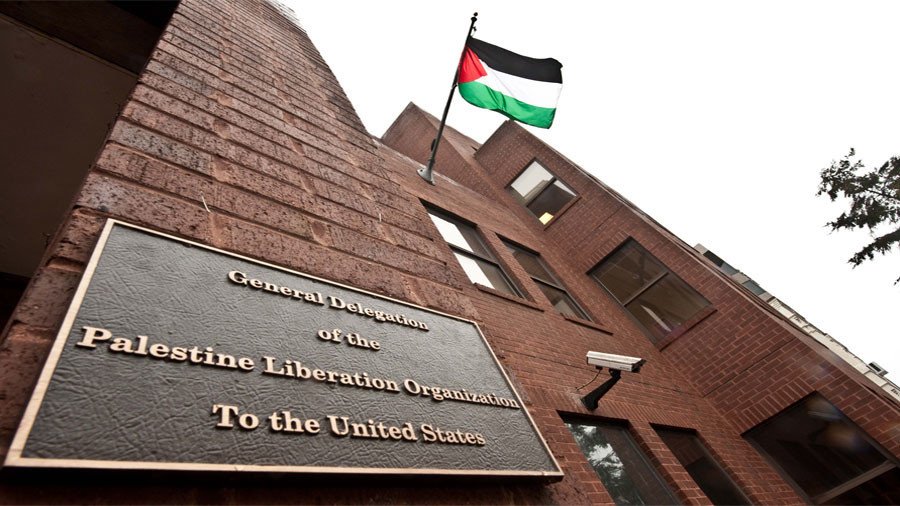 The reported US intention to shut down the Palestinian office in Washington "disqualifies" America as mediator between Israel and Palestine, a spokesman for the Arab nation's leader has said. The move could undermine the entire peace process, he warned.
In response to reports suggesting that the US State Department is about to shut down the Palestine Liberation Organization (PLO) office in Washington, which acts as the nation's diplomatic mission in the US capital, the Palestinian president's spokesman said the move could damage US relations throughout the Middle East.
Having called the reported decision "unprecedented in the history of US-Palestinian relations," Mahmoud Abbas' spokesman Nabil Abu Rudeineh said it "could have serious consequences on the peace process and US-Arab relations," Palestine News Agency WAFA reported Saturday.
The official also called the reported Washington's decision "a reward to Israel," having accused Tel Aviv of "obstructing" all efforts in reaching a peace deal and "refusing to accept the principle of the two-state solution." At the same time, the Trump administration has demonstrated a lack of effort in contributing to the peace process, he said.
"The Palestinian side has not received any ideas, even though many months have passed and in spite of numerous meetings held with the US side, which disqualifies the US administration from playing the role of a mediator and removes itself from the job as sponsor of the political process," Rudeineh's statement said.
Should Washington proceed with its reported plans to shut down the PLO mission, Palestine would cut off all communication with the Trump administration, Palestinian negotiator Saeb Erekat said Saturday, AP reported. A warning letter had been sent to Washington, the official said. Palestinian Foreign Minister Riad Maliki also reacted to the news, saying that "extortion or pressure" would be unacceptable.
READ MORE: John Kerry condemns Israel, hails 'extraordinary' restraint of Palestinians
On Friday, unidentified US officials told AP that the Trump administration was planning to close the Palestinian office in Washington unless Abbas's administration enters into serious peace talks with Israel. The next day, the same officials told the news agency the office must close, regardless of any developments in negotiations.
According to Reuters, citing an anonymous Palestinian official, the State Department informed the Palestinians of the decision Wednesday. Meanwhile, Israeli Prime Minister Benjamin Netanyahu said Tel Aviv "respected" the US decision. "This is a matter of US law," he said in a statement Saturday.
You can share this story on social media: