John Kerry condemns Israel, hails 'extraordinary' restraint of Palestinians
Published time: 8 Nov, 2017 14:08
Edited time: 10 Nov, 2017 13:35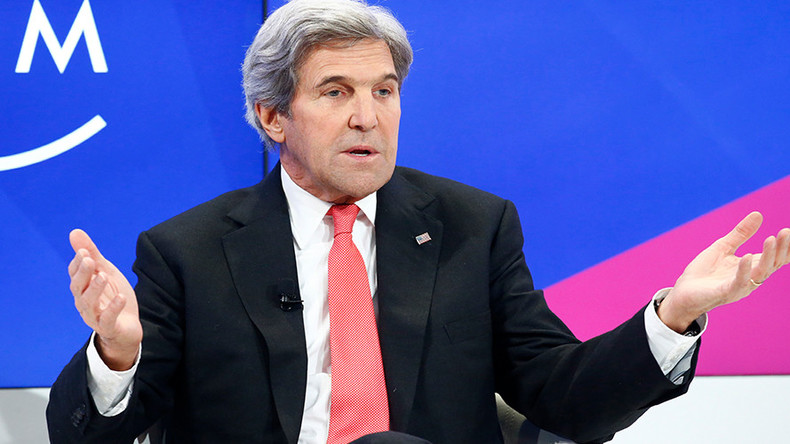 Former US Secretary of State John Kerry has launched an unprecedented attack on the Israeli government, blaming them for the stalemate in securing a peace deal between Israel and Palestine while praising the latter's commitment to non-violence.
Kerry's comments came to light after recordings, reportedly made at a recent conference in Dubai, were obtained by Israel's Channel 10 and broadcast on Tuesday.
The former presidential hopeful said that: "The Palestinians have done an extraordinary job of remaining committed to non-violence. And in fact when the intifada (in 2015) took place they delivered non-violence – in the West Bank."
However, Kerry said this was "overlooked by the general population because it's not a topic of discussion. Why? Because the majority of the cabinet, in the current Israeli government, has publicly declared they are not ever for a Palestinian state."
He then went on to describe a number of steps taken to safeguard Israel's security, including having Israeli troops stationed at an airport in neighboring Jordan. "King Abdullah of Jordan accepted the idea of having Israeli troops at an airport in Jordan," he said.
"We even have pre-deployment of weapons in the West Bank in the event there was an existential threat to Israel that they would have to respond to."
"This would have been the most secure border in the world, with an agreement on a rapid response so if the Palestinian's didn't respond within three minutes or five minutes to an intrusion on the border, Israel had a right to respond," he added.
America's former top diplomat predicted that if the situation doesn't change the Palestinians could return to violence as a means of securing a future state.
"If you see 40,000 kids marching up to the wall every day with signs saying 'give us our rights,' I mean I don't think Palestine is going to be immune forever to the civil rights movements that have swept other nations in the world and somehow Israel is ignoring this. That's not leadership," Kerry said.
"If you don't have leaders who want to make peace, if the equation doesn't change, I'll be amazed if within the next 10 years if we don't see some young [Palestinian] leader come along who says we have tried non-violence for the last 30 years and look, it hasn't gotten us anything."
READ MORE: John Kerry & Madeleine Albright among ex-national security officials against Trump's travel ban
During his time as secretary of state, Kerry led a major round of peace talks between both parties. These, however, collapsed in 2014 with the Palestinians blaming, in part, the construction of Israeli settlements on Arab land.
Just before he left his post, Kerry gave a speech in which he criticized Israel over its settlements policies, saying they jeopardize any future peace deal and the possibility of a two-state solution.