Flame-engulfed apt building in Manhattan may collapse at any moment (VIDEO)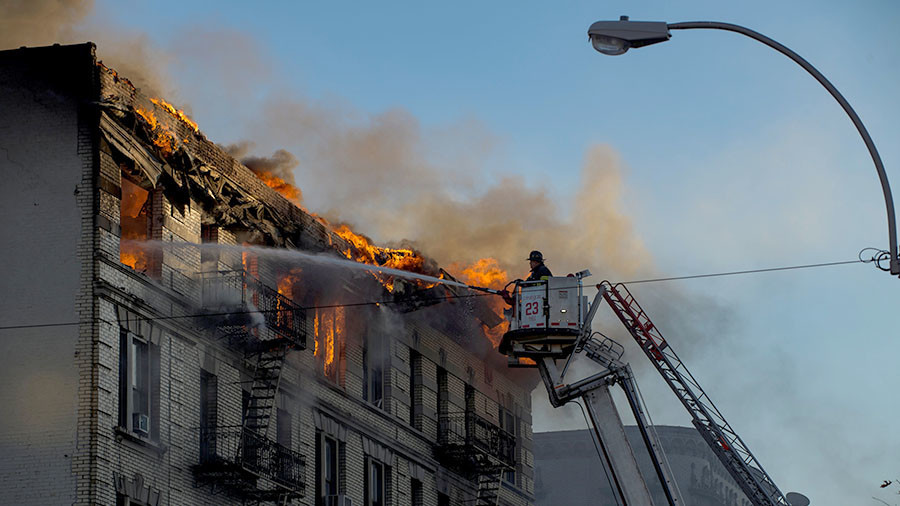 Hundreds of firefighters responded to a 5-alarm fire at an apartment building in the Manhattan neighborhood of Hamilton Heights in New York City. The structure's roof has caved in, and at least five people have injuries.
Firefighters rushed to tame the blaze in the six-story apartment building Friday, which broke out at 3:15 pm. As many as 200 firefighters were fighting the fire, which could be seen from different locations throughout New York City. Five injuries have been reported, including four civilians and one firefighter.
The fire is said to be so devastating that the 100-year-old-building, which contains retail shops on the first floor, could collapse at any moment, FDNY Chief James Leonard said, WPIX reported. Floors two through six of the building housed residents in apartments.
Entire top floor is heavily involved, it's still a very heavy, active fire scene. Currently 1 civilian and 4 Firefighters with non-life-threatening injuries -#FDNY Chief of Department James Leonard on 5-alarm fire, 565 W 144 St Manhattan

— FDNY (@FDNY) November 17, 2017
The flames began to initially spread from the sixth floor of the occupied apartment building, and led to the collapse of the roof, which covers a large area of the block in which it is located.
Resident Mannaesh Carter was at a store downstairs in the building when he smelled smoke. He then ran upstairs and went door-to-door to warn his neighbors.
"I tried to get as many people out as I could, I started banging on doors and just screaming 'fire fire,'" Carter said, according to WPIX. "My cat is gone, all my clothes, all the papers, gotta start all over."
Crews are now fighting the flames from ladders and rooftops of adjacent buildings, but the fire is still strong, and is continuing to spread through 42 neighboring units.
After the roof's collapse, the search for residents in the building was called off, but there have been no reports of missing persons. Other structures across the street from the fire drenched building have been evacuated, while those buildings are also feared to be at risk for collapse.
It is not yet known how many people have been displaced by the fire, and the initial cause of the inferno has not been reported.
Syndee Winters captured video of the fire from across the street.