5th Baltimore cop cleared of all charges relating to death of Freddie Gray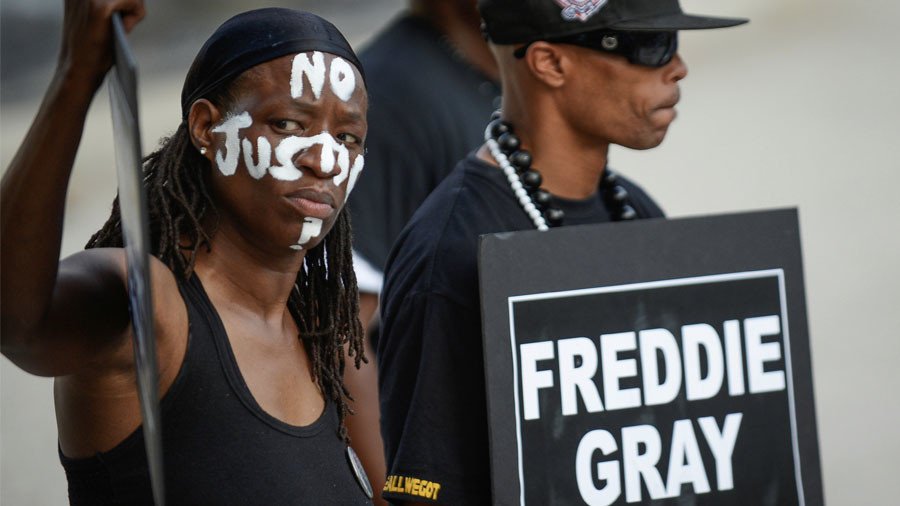 Another police officer has been cleared of all administrative charges connected to the 2015 arrest and death of Freddie Gray in Baltimore, Maryland. Protests over the death escalated into a riot and prompted questions about racist policing.
Lieutenant Brian Rice was found not guilty by a three-member panel of law enforcement officers on Friday, the Baltimore Sun reports. Rice, who placed Gray in the back of a police van following his arrest, faced 10 administrative charges. He had previously been acquitted of manslaughter.
Gray was arrested on April 12, 2015 for possession of an illegal switchblade. He was placed in a van with handcuffs and leg shackles on, but was not restrained by a seat belt. According to police, when officers checked on the 25-year-old, he was unconscious and had suffered severe spinal cord injuries, which led to his death a week later. Gray's death was ruled a homicide by a medical examiner and caused a wave of violent protests in Baltimore.
Six officers involved in the arrest later faced charges including manslaughter and second-degree murder. After one mistrial and two acquittals, state attorney Marilyn Mosby dropped all the charges. Five of the officers then faced an internal disciplinary hearing, which began on October 30.
Rice's acquittal comes just one week after Baltimore PD Officer Caesar Goodson Jr., who drove the van, was acquitted of 21 administrative charges.
Two of the officers chose not to fight the charges and are now back at work with Baltimore Police Department. The rest have been acquitted, so far. Sergeant Alicia White is still facing a disciplinary hearing, scheduled for December 5.
A 2015 investigation of the Baltimore PD by the Department of Justice found the police were conducting unconstitutional stops, searches and arrests disproportionately targeting African-Americans, using excessive force, and retaliating against individuals for engaging in constitutionally protected expression. The city and the DOJ reached a settlement on police reform in January this year.
You can share this story on social media: