Police van driver in Freddie Gray's death acquitted of all charges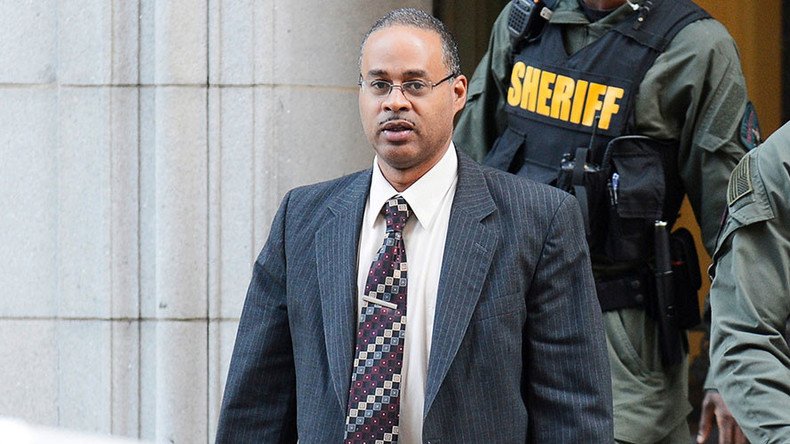 Baltimore Police Officer Caesar Goodson Jr. who drove the van in which Freddie Gray suffered injuries that led to his death in custody in 2015, has been found not guilty in an administrative process. Both Goodson and Gray are African-American.
The panel of law enforcement officials deliberating the case announced its decision at the University of Baltimore Tuesday. There were 21 charges against Goodson. Prince George's County Police Major Rosa Guixens, head of the panel, read out "not guilty" to all the charges.
Goodson, who risked having his career ended if convicted of just a single charge, couldn't hide his smile after hearing the acquittal, the Baltimore Sun reported. The panel's decision is final.
The verdict was vindication for a hard-working and soft-spoken officer who was "wrongfully charged," defense lawyer Sean Malone said after the hearing. Goodson is planning to continue his career with the Baltimore Police Department, his attorney added.
Goodson has 14 years of experience behind the wheel of a police van. Many of the charges against the officer revolved around his failure to ensure Gray's safety in the back of the vehicle and to provide the detainee with medical help when he asked for it.
Gray was arrested on April 12, 2015 for possession of an illegal switchblade. He was placed in a van with handcuffs and leg shackles on, but was not restrained by a seat belt. According to police, when officers checked on the 25-year-old, he was unconscious and had suffered severe spinal cord injuries which led to his death a week later. Gray's death was ruled a homicide by a medical examiner and caused a wave of violent protests in Baltimore, which even led to a curfew.
READ MORE: Baltimore reaches 200 homicides, on pace to break grim record
Goodson was also charged with making false statements to detectives investigating Gray's death, as well as failing to properly document his actions of the day Gray was arrested.
Last year, the 48-year-old officer was acquitted of second-degree depraved-heart murder and other criminal charges in connection with Gray's death. Goodson was one of the six officers who had criminal cases initiated against them over the incident. None were convicted.
Five of those officers were later charged administratively in Gray's death. Officers Edward Nero and Garrett Miller have accepted an undisclosed "minor" discipline and are now back with Baltimore PD.
Lieutenant Brian Rice and Sergeant Alicia White are awaiting their administrative trials, scheduled to begin on November 13 and December 5, respectively.
You can share this story on social media: