Baltimore reaches 200 homicides, on pace to break grim record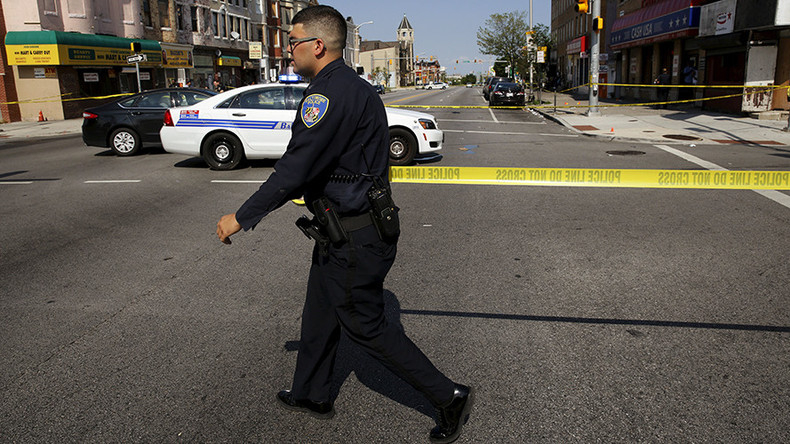 A water-seller shot in broad daylight on Baltimore's Greenmount Avenue was the 200th homicide victim in 2017, putting the Maryland city on pace to surpass the records set over the past two years. Activists are calling for a "ceasefire" in early August.
The fatal shooting happened around 4pm on the 1200 block of Greenmount Avenue, according to the Baltimore Sun. The victim, 23, has not been identified by name. A female bystander was injured in the shooting and taken to an area hospital.
It was the 30th homicide in July, the third month this year with 30 or more homicides in a city struggling with rising crime rates. The area where the shooting happened has seen serious crimes over the past several months. In March, a home on the same block was firebombed, killing two teenagers and injuring six. Eight people were shot at a nearby corner in September, the Sun reported.
The past two years have set records for homicides in Baltimore, with 318 recorded in 2016 and 344 in 2015. Yet the 200 mark was recorded on August 10 in 2015, and September 2 in 2016, putting this year on pace to surpass both records if the killing continues.
As of July 25, the Baltimore Police Department's clearance rate for homicides was only 57 percent.
City authorities are trying to crack down on the "slow-motion massacre," as WJZ-TV described it, by proposing a mandatory minimum sentence for illegal gun possession.
"Over 600 shootings in less than a year in our city and something has to give. And so we are trying to protect the citizens of our city and make sure that we curb the violence in our city," Mayor Catherine Pugh said on Tuesday, as City Hall debated the mandatory minimum proposal.
Councilman Eric Costello of the Eleventh District says his constituents are "frankly sick and tired of people illegally carrying guns on the street and wreaking havoc on our communities."
Activists opposed to the mandatory minimums protested the proposal, however, and police were called in to handle the disruption.
Pugh has described the city's murder rate as "out of control."
Homicides in Baltimore rose sharply in 2015, after the death of a 25-year-old African American man in police custody.
Freddie Gray broke his spine in the back of a police van in April 2015, after he was arrested for running away from a patrol. Protests over Gray's death turned into riots, causing widespread property damage in the city. Six officers involved in Gray's arrest were indicted, but prosecutors dropped all the charges in July 2016, after one mistrial and three acquittals.
FBI data for 2015 showed Baltimore ranked second in the US for murder rates, at 55.27 per 100,000 residents, right behind 59.29 in St. Louis, Missouri.
The Department of Justice announced in June it was sending additional federal agents to 12 cities across the US to combat violent crime. Baltimore was not on the list.
Earlier this month, community activists have called for a "nobody kill anybody" 72-hour "ceasefire" on the first weekend in August.