Mistrial declared in Menendez corruption trial, as jury deadlocks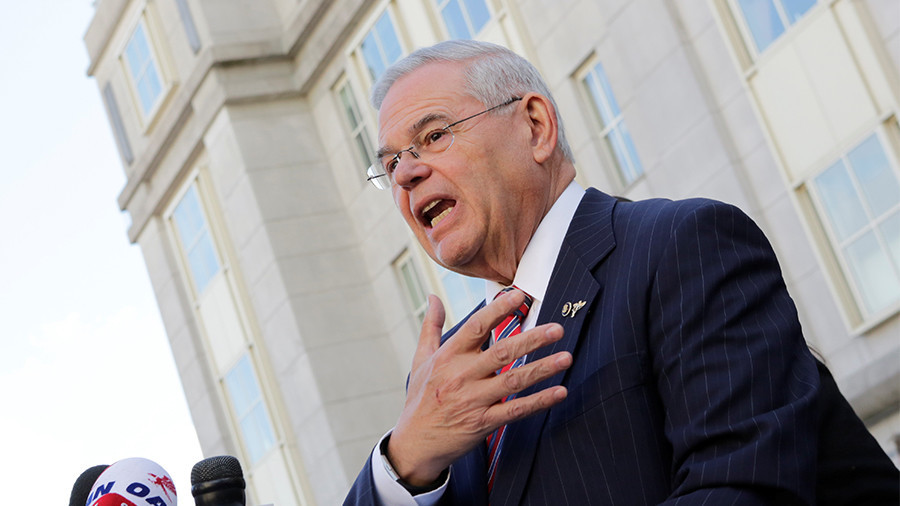 A mistrial was declared in the bribery, conspiracy and fraud trial of Senator Bob Menendez (D-New Jersey), as the 12-person jury deadlocked on all 18 counts against the Senator and his co-defendant following the 11-week trial.
Newark, New Jersey US District Court Judge William H. Walls declared a mistrial Thursday following a 15-hour jury deliberation. Federal prosecutors have not stated whether or not they will retry Menendez, 63, and co-defendant Salomon Melgen, 63, a wealthy Florida eye doctor and friend of Menendez, on federal charges of bribery, conspiracy and fraud that were brought against them in the case, the North Jersey Media Group reported.
The most serious charge levied against the two men by the US Department of Justice carried a maximum prison sentence of 20 years. Both Menendez and Melegen have denied the charges against them.
The trial concluded roughly an hour earlier than intended on Thursday after the jury sent Judge Walls a note to notify him of the deadlock.
"We have each tried to look at this case from different viewpoints, but still feel strongly in our positions, nor are we willing to move away from our strong convictions," the jury stated, according to a note read by a defense attorney in the courtroom, North Jersey Media Group reported.
The 12 jurors said they "reviewed all the evidence slowly, thoroughly and in great detail."
Walls then told them, "I find that you are unable to reach a verdict and that further deliberations would be futile and that there is no alternative but to declare a mistrial," according to the NJ Media Group.
Walls officially declared the mistrial at 1pm as Menendez hugged his two adult children, while other supporters of the senator, and his co-defendant, also exchanged congratulatory hugs.
Menendez was facing 12 felony counts, which included six counts of bribery, three counts of honest services fraud, one count of conspiracy and one count of interstate travel to carry out bribery. Melgen was facing the same charges, sans the false statements accusation.
At issue in the trial against Menendez and Melgen, are accusations that Menendez advocated for Melgen in meetings with officials from the executive branch, that could have helped the wealthy eye doctor in his multi-million-dollar reimbursement dispute with the Medicare federal healthcare program.
Prosecutors also allege that Menendez advocated for Melgen in the case of a contract dispute between one of Melgen's companies, and the Dominican Republic.
The prosecution stated that all of this was going on while Melgen was providing Menendez with trips on his private jets, letting him stay at his house in a resort in the Dominican Republic and giving the Senator $660,000 in political contributions.
But defense lawyers in the case stated that there was no corrupt motive between the friends giving each other gifts and vacationing together.
The lawyers tried to prove their case throughout the trial that Menendez's meetings with government officials were "what members of Congress do," and were focused on legitimate policy concerns, even if they benefited Melgen in some way.
Last week, the jury went into deliberation for three full days before one juror was excused so she could take a long-planned vacation. Judge Walls subsequently replaced her with an alternate juror, and instructed the jury as a whole on Monday morning to look at the charges all over again in order to come to a final conclusion.
Last Monday during that same week, jurors notified Walls they were deadlocked for the first time. Walls then went on to urge the jury to keep working toward a decision. Up until Thursday's note informing the judge of the deadlock, the jury had not sent another note or question to the court.
The Justice Department's investigation into Menendez had lasted for over four years.