'I hate you, Chinese n****r!' Racist passenger attacks Asian man on SF train (VIDEO)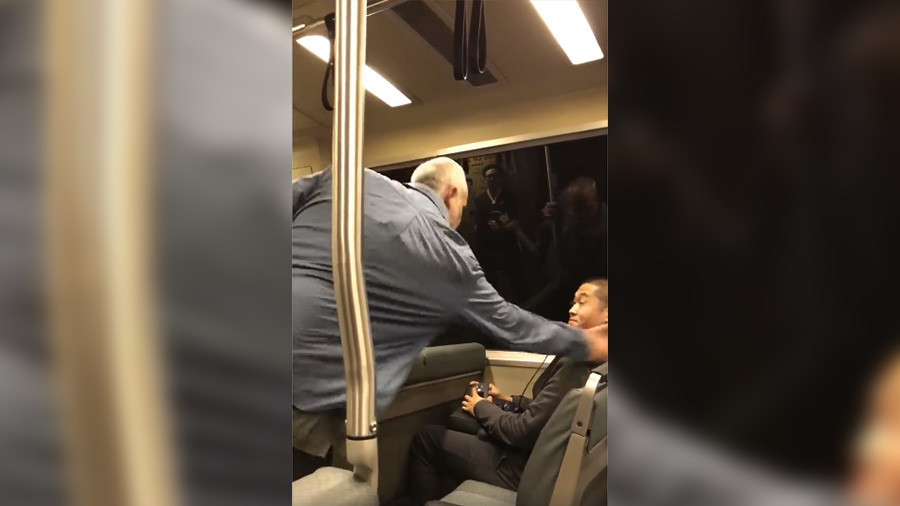 A white man has been caught on film yelling racist slurs against an Asian passenger on San Francisco's rapid train while horrified commuters watched on without intervening. The victim was brave enough to stand up and confront the attacker.
A widely-seen video emerged online showing an old white man aggressively uttering racial insults at Asian man, identified by SF Gate outlet as Charles Wu, on a Bay Area Rapid Transit (BART) train.
The offender is first seen leering at Wu, threatening to "punch his d**k" and "beat you down." As a passenger next to Wu begins to move away, the white man calls him "Chinese n****r," slapping him on the neck and shoulder.
Wu remains visibly calm until the attacker, seemingly challenging him into a physical fight, tells him: "I hate you, you f*****g Chinese f**k." Wu slowly stands up to respond, but other commuters stop him, saying "Don't do it, don't do it," and "He's not even worth it."
Wu later told SF Gate the man boarded the train near the Coliseum Station. He said hardly anyone was willing to intervene at first. "No one was saying anything and it was a BART full of people," he said. "I had enough, so I told him, 'Sir, you need to stop talking.'"
BART police said they received three calls from commuters, but the assailant left before officers arrived. Police launched an investigation into "the belligerent and bigoted actions" of the suspect, though Wu insisted he does not want to press charges.
Video of the encounter was uploaded to Facebook by a user named Wiseley Wu, who recorded it while apparently sitting nearby on the BART train.
READ MORE: South Korean tourist attacked, has teeth smashed with champagne bottle 'for being Asian' (VIDEO)
"Even in Bay Area, racism like still exists," the user wrote on Facebook. "I was merely the person filming it, not the guy being insulted. I wish I were as brave as him."
"We see a lot of crazy things on BART and I thought it'd be over in no time," the camera operator later told SF Gate. "But it kept getting worse and worse and I never expected to see something like this in front of me, I didn't know what to respond."
About 420,000 people use BART trains daily. While the agency says it is increasing its police presence and hiring additional officers, it says that it also relies on commuters to report crimes.
You can share this story on social media: