Hawaii adopts nuclear attack warning signal amid North Korea tensions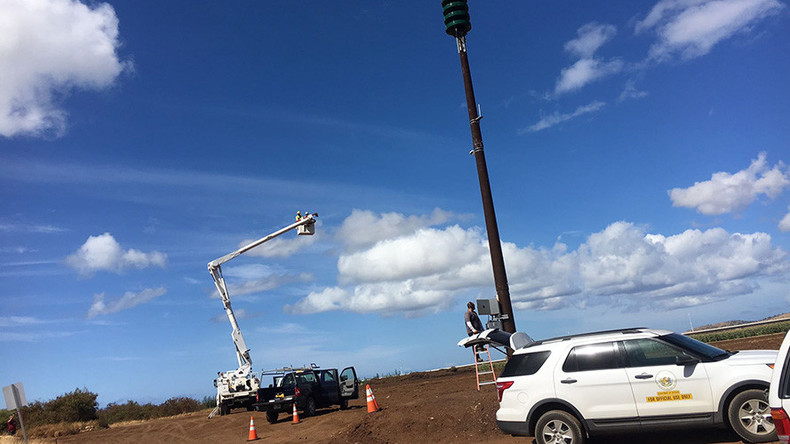 The US State of Hawaii is preparing to introduce a new 'attack warning' signal that would notify the islanders of a potential nuclear strike threat emanating from North Korea.
"Starting December 1, a second tool – the attack warning signal will be added" to its emergency response system, Hawaii Emergency Management Administrator Vern Miyagi announced Wednesday."The attack warning signal advises everyone to take immediate shelter, get inside, stay inside and stay tuned."
On the first business day of every month, Hawaii conducts a test of the Emergency Alert System (EAS) installed across the state and which alerts the public of potential natural disasters, such as volcano eruptions and tsunamis. However, in the wake of the recent escalation of tensions on the Korean peninsula, Hawaii announced additional measures to alert the public of any potential nuclear threats.
The new alert will sound on December 1, following the regular siren tests at 11:45am, Hawaii Emergency Management Agency Executive Officer Toby Clairmont told the Honolulu Star-Advertiser.
Amid the ongoing standoff between Washington and Pyongyang over North Korea's nuclear program, Hawaii is gearing up to deal with a potential nuclear attack on the home of the US Pacific Fleet. Local authorities estimate that the detonation of a hypothetical 150-kiloton-yield bomb would immediately cause some 18,000 fatalities in addition to 50,000 to 120,000 injuries.
Fears of such a doomsday scenario were triggered by North Korea's September 1 detonation of what it claimed to be a hydrogen bomb small enough to be mounted onto an intercontinental ballistic missile (ICBM).
"As far as casualties [from a North Korean strike scenario], we're talking about maybe 10 percent," Miyagi said during a presentation Saturday. Hawaiian authorities, he added, are taking the threat seriously, holding weekly teleconferences with the US Department of Homeland Security and working with the Federal Emergency Management Agency to discuss "advancing our plans concerning the post-impact, and how that's going to work."
Roughly 4,600 miles separate Hawaii from North Korea, making the islands one of the closest US territories, after Guam and Alaska, which Pyongyang could potentially strike.
An ICBM fired from North Korea could reach the islands in just 20 minutes, giving the authorities a 12-15 minute window to alert the population. State authorities, however, remain optimistic, hoping that if North Korea does launch a nuclear strike, the missile would rather aim for a "guaranteed" target than Hawaii.
"He [N. Korean leader Kim Jong-un] has a limited amount of missiles, and there are many, many closer-in targets that he is guaranteed of hitting, such as Japan and South Korea and even the continental United States. If he heads it that way, he'll hit something," Miyagi said. "Hawaii is a very tiny target. Even Guam. Guam is a very tiny target for him."
The news from Hawaii coincides with an announcement by the US Missile Defense Agency that it has completed the installation of the last interceptor for a Ground-based Midcourse Defense (GMD) system at Alaska's Fort Greeley.
Amid soaring tensions with North Korea, Donald Trump's administration has asked Congress to allocate an additional $4 billion for anti-missile defense programs, including the deployment of 20 extra interceptors at Fort Greely, despite the system's dubious success record.
You can share this story on social media: