USA Today gets trolled over 'chainsaw bayonet' assault rifle video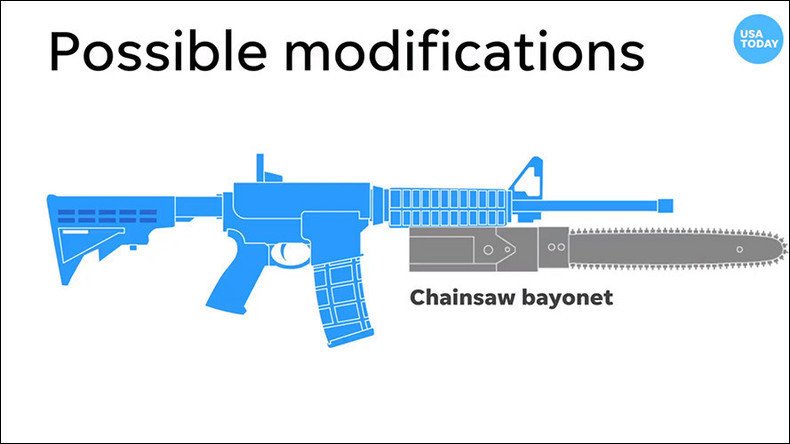 USA Today got the opposite reaction it was looking for when it posted a video claiming the AR-15 rifle, used in the recent Texas church shooting, had the ability to be modified with a chainsaw bayonet. Tweeters immediately reacted with ridicule and skepticism to the publication's claims.
USA Today posted the video Wednesday morning, showing a Ruger AR-556 rifle, with several modifications, including a chainsaw, moving on and off the gun, all to the sound of ominous music. The AR-556, which Devin Kelley used to murder 26 people in Sutherland Springs, Texas on Sunday, is a variation of the AR-15 rifle.
Some users on Twitter responded to the situation in the only way they know how – with thought-provoking, humorous commentary.
In response to the video's claims that a chainsaw bayonet can be tacked on to the front of the AR-556, one person wrote: "Are you sure the weapon didn't look more like this?"
The same user followed up with another tweet, only this time, the modification he tacked on to the gun was a bit more farfetched.
Sean Davis, co-founder of the online publication, the Federalist, joined in on the fun, and lampooned USA Today's inclusion of the chainsaw modification.
"I honestly didn't even know this was an option," he tweeted
Another skeptical person got right to the point, and wrote: "USA Today released a video claiming you can put a chainsaw on an AR-15. That's the most absurd gun claim I've ever heard."
One user expressed a newfound interest in purchasing the AR-556, now that they know it can be upgraded with unusual items like a mechanical saw.
Conservative commentator Ben Shapiro chimed in with a picture of Hollywood action movie star Chuck Norris at the end of the gun.
A follower of Shapiro on Twitter piggybacked off of the commentator's suggestion for an add-on to the semi-automatic rifle, and tweeted: "What AR-15 is complete without sharks and lasers?"
The USA Today video did not mention that Stephen Willeford, the man who eventually stopped Kelley's killing spree, also used an AR-15 to do so.
READ MORE: Michigan bill would put guns in schools, churches & daycare centers
USA Today is not the only publication to highlight unlikely modifications to the AR-15. Vox also took it upon themselves to inform the public of the gun's complexities last year, posting a photo with a grenade launcher, garnering snickers from many gun owners.
In the wake of the Texas massacre, Senate Democrats, led by Senator Dianne Feinstein of California, have introduced major gun control legislation on Wednesday that would make it illegal to sell more than 200 types of semi-automatic weapons. Also included in the bill is a ban on gun magazines that hold more than 10 rounds of ammunition, the Washington Examiner reported.
You can share this story on social media: