Democrat Ralph Northam wins Virginia governor's race
After a nail-biting race to replace outgoing Governor Terry McAuliffe, Democratic candidate Ralph Northam has become the new Governor of Virginia. The election was widely seen as a test of the impact of Trump's presidency.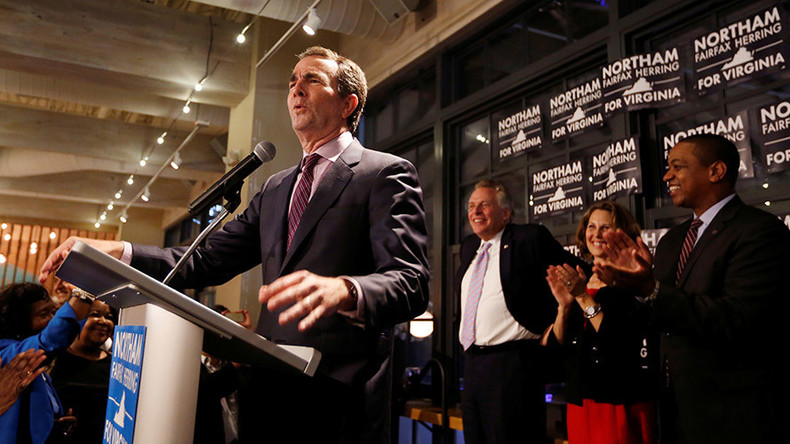 With 59 percent of precincts reporting, Northam was projected the winner with 51.4 percent of the vote, compared to Republican Ed Gillespie's 47.4 percent, according to the Associated Press.
Northam said in his victory speech that the US is getting more diverse every year and that diversity is what makes the country great. He vowed to make Virginia an inclusive state that would "keep the light on and the door open."
The governor-elect made the comments after protesters demanding sanctuary policies for illegal immigrants reportedly heckled him during the rally.
Many saw the race as a referendum on President Donald Trump's administration, with Democrats looking to hold on to the only southern state that former secretary of state Hillary Clinton won during the 2016 presidential election.
Last year, Trump lost to Clinton in Virginia by a margin of 5.4 percent. In Tuesday's gubernatorial race, Gillespie lost to Northam by a margin of about 6.1 percent, with 80 percent of precincts reporting.
Democrats hope the win will set the tone for the 2018 midterm congressional elections.
Polls conducted before the election showed Northam leading Gillespie by a wide margin. However, after indecisive remarks about "sanctuary cities," his lead appeared to dwindle.
Last month, the Latino Victory Fund released an ad showing a white man chasing down minority children in a pickup truck with a Gillespie bumper sticker and a Confederate flag, prompting denunciations from Republicans.
Northam's victory marks the first major win for Democrats since the 2016 presidential election.
Ed Gillespie worked hard but did not embrace me or what I stand for. Don't forget, Republicans won 4 out of 4 House seats, and with the economy doing record numbers, we will continue to win, even bigger than before!

— Donald J. Trump (@realDonaldTrump) November 8, 2017
After Northam was projected to win, Trump tweeted that Gillespie "did not embrace me or what I stand for."
After Gillespie narrowly defeated a Trump supporter in the primaries, he moved closer to the president on several policies. During the race, Gillespie aired TV ads promising to combat MS-13 gang members and preserve the state's confederate monuments.
In his concession speech, Gillespie thanked voters from both parties who cast their ballot to express their "very legitimate concerns."
"And I know they too are rooting for our new governor to succeed because we all love the commonwealth of Virginia and we will continue to root for the commonwealth of Virginia to do well and hope that our governor is successful in that regard," Gillespie said.
In state legislature elections, polls show Democrats leading in at least a dozen "contested" elections for state house delegate seats currently held by Republicans, the majority party. Democrats could potentially take the majority of the seats in the house of delegates.
Republicans held a 66-34 majority in the state House, and all 100 seats are up for election Tuesday.
Virginians in Manassas elected Democratic Socialist Lee Carter, who defeated Republican Delegate Jackson Miller by nearly 10 points.
The state also elected Democrat Danica Roem, the first transgender woman, to the House of Delegates. Roem defeated Bob Marshall, who ran ads attacking Roem's gender identity, by nearly 10 points.
You can share this story on social media: