'Stingray on steroids': Texas National Guard has spy devices on planes
Published time: 6 Nov, 2017 23:24
Edited time: 7 Nov, 2017 08:12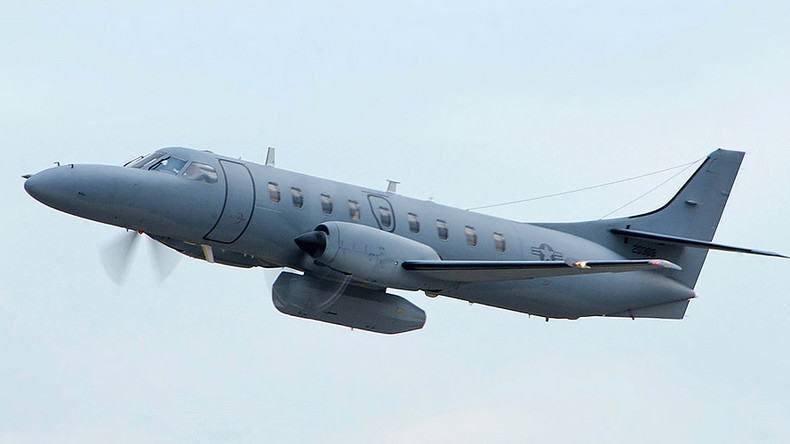 Devices capable of accessing calls, photos and text messages on cell phones were installed on two Texas National Guard surveillance aircraft. The project was funded by over $300,000 from drug-related asset forfeitures.
A contract between the Maryland-based Digital Receiver Technology Inc. and the Texas National Guard shows that two DRT 1301Cs were installed in National Guard aircraft in partnership with the Drug Enforcement Administration. The $373,000 purchase was made with state drug-asset forfeiture money, the Texas Observer reported.
The cell site simulators, known as "dirt boxes" (after the company's acronym, DRT), are designed to mimic cell phone towers and trick every smartphone within one-third of a mile into connecting with it. This enables operators to intercept sensitive information including the user's location, phone numbers dialed, text messages and photos. The devices can also be used to record or listen to phone calls ‒ all of it without users or service providers knowing about it.
According to Justice Department guidelines issued in 2015, law enforcement is allowed to use the technology with a probable cause Title III warrant which deals specifically with electronic surveillance. But as a military force, the Texas National Guard may not have the legal authority to use the DRTs. The Guard refused to tell the Observer whether it has obtained any warrants for using the devices, or where they have been deployed.
Use of the DRT is widespread among US law enforcement agencies. Police departments in Chicago and Los Angeles have been using the spying device for more than a decade, according to a report by the Center for Investigative Reporting. The ACLU found that police in Anaheim, California have been using the device since 2009 and made it available to the neighboring departments in Orange County.
Documents obtained by the Electronic Frontier Foundation under the Freedom of Information Act revealed that US Marshals fly DRT-equipped Cessna planes from at least 5 metropolitan airports over a geographic range that covers the majority of the US population.
One activist described the DRT as a "Stingray on steroids," referring to the device used by police departments to surveil cities across the country. A 2016 report found that Stingrays have been used to target low-income neighborhoods with high minority populations. In September 2017, a federal court ruled that police must obtain a warrant before using the device to locate a suspect.
"Dirt boxes" are a step up in surveillance technology, capable of intercepting more information than the Stingray.
"These DRT boxes are far more capable than the old Stingrays," attorney Scott McCollough told the Observer, "The old-style Stingrays were not able to capture content. Guess what? The DRT box is…. These newer ones get everything."
Like their Stringray predecessor, use of "dirt boxes" may face legal hurdles too. Innocent people whose information is obtained through use of the surveillance devices may be able to mount a privacy lawsuit against the government, according to the Observer report.