US Commerce Secretary brushes off Russia connection in Paradise Papers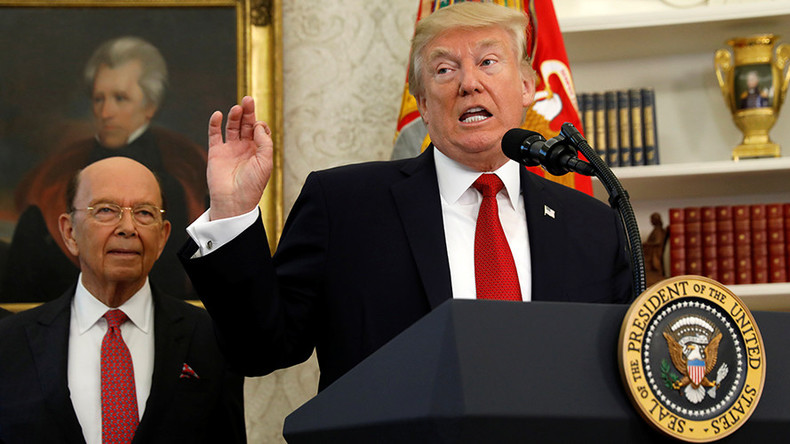 US Commerce Secretary Wilbur Ross rejected claims that he acted improperly following reports of business ties with Russia, based on the Paradise Papers leak. The Russian company involved said media interpretations of the report were "politically charged."
According to financial papers released on Sunday, detailing the dealings of a number of wealthy individuals and institutions, Ross, a billionaire investor and member of the Trump administration, has a stake in Navigator Holdings – a transportation partner of Russian petrochemical company Sibur.
"US Commerce Secretary Wilbur L. Ross Jr. has a stake in a shipping firm that receives millions of dollars a year in revenue from a company whose key owners include Russian President Vladimir Putin's son-in-law and a Russian tycoon sanctioned by the U.S. Treasury Department as a member of Putin's inner circle," says the International Consortium of Investigative Journalists (ICIJ), the main publisher of the Paradise Papers. After the report was published, some US lawmakers accused Ross of misleading Congress during his confirmation hearings.
Responding to the report on Monday, Ross said there was nothing improper in the business connection. "The fact that [Sibur] happens to be called a Russian company does not mean there's any evil in it," Ross said, according to a BBC journalist on Twitter reporting on an interview with Ross.
In a separate interview with CNBC, Ross stressed that Sibur was not subject to US sanctions. "A company not under sanction is just like any other company, period. It was a normal commercial relationship and one that I had nothing to do with the creation of, and do not know the shareholders who were apparently sanctioned at some later point in time," he said.
A statement from the department of commerce spokesman denied that Ross was involved in negotiations between Navigator Holdings and Sibur or had any personal meetings with "Sibur shareholders referenced in the story." The statement also rejected a claim that Ross failed to disclose having a holding in Navigator and said the secretary was committed to the Trump administration's Russian sanctions policy.
Russia's Sibur: Media interpretations 'politically charged'
Sibur said Monday that its choice of Navigator Holdings among other companies for transporting liquefied natural gas was decided through a transparent bidding process. The company said the depiction of the business ties as something nefarious by some media outlets was "politically charged" and "surprising."
The company confirmed that its owners had no direct negotiations with Ross, countering speculation that the transport contract may imply that Ross had secret contacts with Russian officials. "All negotiations and meetings were held solely by Sibur management and solely with management of those companies [which were shipping Sibur's liquefied petroleum gas] and without shareholders' involvement," Sibur said in a statement.
The company stressed that while Timchenko as an individual was targeted by sanctions on Russia, Sibur had not been. "Our counter-parties conducted all necessary checks into whether there were any restrictions on working with Sibur. No such restrictions were found," the statement said. "Sibur expresses surprise at the politically charged interpretation in some media outlets of the normal business activity, which has been for many years, since its very start, been fully reflected in the company's public records."
The Paradise Papers were obtained by the German newspaper Sueddeutsche Zeitung, which shared it with the ICIJ and some media outlets. Queen Elizabeth II of England and global mining giant Glencore, among others, are mentioned in the papers.
Earlier in 2015, the ICIJ released a similar trove of financial documents called the Panama Papers, which referred to a number of influential individuals. Among them were Ukrainian President Petro Poroshenko, King Salman of Saudi Arabia, and members of the Spanish royal family.