Paradise Papers: New offshore leaks mention Queen Elizabeth, Trump govt & Putin's 'inner circle'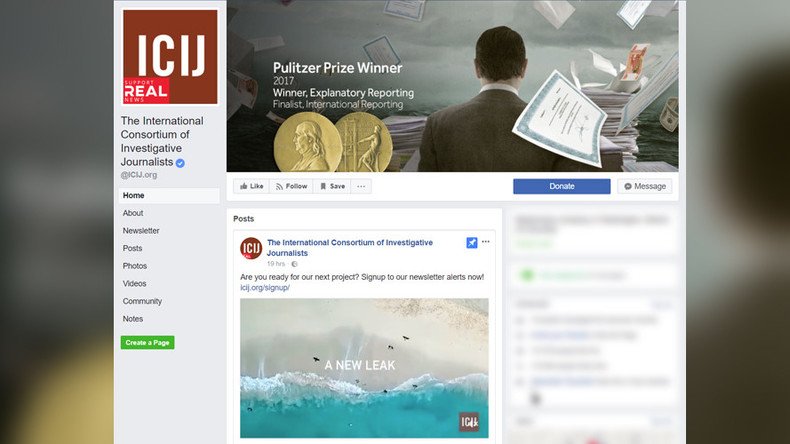 The organisation behind the Panama Papers investigation, has published its latest series of offshore leaks. Among those mentioned are Queen Elizabeth, members of Donald Trump's government and Vladimir Putin's "son-in-law".
The files dubbed the Paradise Papers reveal "offshore interests and activities of more than 120 politicians and world leaders, including Queen Elizabeth II, whose private estate indirectly invested in a rent-to-own loan company accused of predatory tactics".
Thirteen allies, major donors and Cabinet members of US President Donald J. Trump appear in the documents, according to the International Consortium of Investigative Journalists (ICIJ).
Among these are "Commerce Secretary Wilbur Ross's interests in a shipping company that makes millions from an energy firm whose owners include Russian President Vladimir Putin's son-in-law and a sanctioned Russian tycoon," the ICIJ said, promising more related stories in the coming days.
The files also include tax planning details by nearly 100 multinational corporations, including Apple, Nike and Uber.
The leaks relate to Bermuda-based offshore law firm Appleby, which admitted in recent weeks that it had been the target of a data breach.
The ICIJ said 95 media partners were involved in sifting through 13.4 million leaked files from a combination of leaked files of offshore law firms and the company registries in some of the world's most secretive countries.
It added that the structured data connected to the investigation would be published on its Offshore Leaks Database in the coming weeks.
The files were obtained by the German newspaper Süddeutsche Zeitung.
Queen's investments in 'predatory' rent-to-buy firm BrightHouse
Documents reveal that some £10 million of the Queen's private money was invested offshore in British overseas territories with no corporation tax.
Duchy of Lancaster, an investment body that provides an independent income to the sovereign, held two funds in the Cayman Islands and Bermuda.
Some of the money ended up in off-license chain Threshers and rent-to-own lender BrightHouse, which was recently subject to a review by the Financial Conduct Authority for irresponsible lending.
A spokesperson for the Duchy of Lancaster told the BBC: "We operate a number of investments and a few of these are with overseas funds. All of our investments are fully audited and legitimate. The Queen voluntarily pays tax on any income she receives from the Duchy."
Justin Trudeau's chief fundraiser linked to offshore tax scheme
Canadian Prime Minister Justin Trudeau's chief fundraiser and senior adviser, Stephen Bronfman, was involved in the movement of millions of dollars to offshore havens, according to documents.
The Paradise Papers reveal that Bronfman, who played a critical role in Trudeau's rise to power, moved millions of dollars offshore to entities belonging to his godfather Leo Kolber's family, through his private-investment company, Claridge.
A lawyer representing the Bronfmans and Kolbers told the International Consortium of Investigative Journalists that "none of the transactions or entities at issue were affected or established to evade or even avoid taxation" and that they "were always in full conformity with all applicable laws and requirements." A spokesman for Trudeau declined to comment.
Twitter, Facebook investor linked to Kremlin but gained no influence
A major investor in Twitter and Facebook, Russian billionaire Yuri Milner, had financial ties to two Russian government-owned firms, the files revealed.
Records showed that Kremlin-owned VTB Bank directed $191 million into Milner's investment fund, DST Global, which was used to buy a large stake in Twitter in 2011.
Milner acknowledged that VTB was one of the partners that helped bankroll the Twitter investment but insisted that less than 5 percent of his firm's investment funding came from Russian government institutions.
He said the Russian bank, like all of his limited partner investors, did not gain any control over Twitter or DST Global's investment vehicles.
The documents also revealed that a subsidiary of the Russian energy giant Gazprom funded an offshore company that partnered with DST Global in a large investment in Facebook.
"There is no indication that the Kremlin gained influence over Twitter or Facebook or received inside information about the firms as a result of investments associated with Milner," the ICIJ said.
George Soros and a web of offshore entities
Private equity funds run by Democrat mega-donor and billionaire George Soros were also found in the records.
The funds used Appleby to help manage a web of offshore entities, including an investment in one company engaged in reinsurance, or insurance for insurers, according to the ICIJ.
The Panama Papers previously revealed how Soros used Mossack Fonseca to establish a web of offshore investment partnerships. The ICIJ is funded by Soros' Open Society Foundations.
Appleby said in a statement on October 27 that its data had been stolen in a cyber attack last year.
It also said it had received queries from the ICIJ which arose from documents that journalists claimed to have seen and involved allegations against Appleby and the business conducted by some of its clients.
"Appleby has thoroughly and vigorously investigated the allegations and we are satisfied that there is no evidence of any wrongdoing, either on the part of ourselves or our clients.
We refute any allegations which may suggest otherwise and we would be happy to cooperate fully with any legitimate and authorised investigation of the allegations by the appropriate and relevant authorities."
It added that it was disappointed that the media may used material obtained illegally which could result in exposing innocent parties to data protection breaches.
"Having researched the ICIJ's allegations we believe they are unfounded and based on a lack of understanding of the legitimate and lawful structures used in the offshore sector."
The release comes nearly 18 months after the Panama Papers revelations rocked the world with the trove of 11.5 million documents from the Panamanian law firm Mossack Fonseca.
Icelandic Prime Minister Sigmundur Davíð Gunnlaugsson was forced to step down after revelations relating to offshore accounts.The ICIJ say at least 150 inquiries, audits or investigations have been announced in 79 countries around the world on the back of the revelations.
You can share this story on social media: