Texas church shooting: What we know about alleged gunman Devin Kelley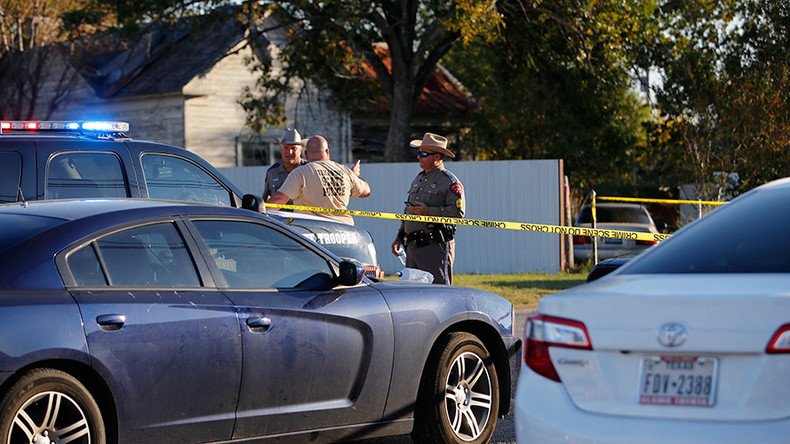 A man identified as Devin Patrick Kelley gunned down 26 people and injured at least 20 more in an attack at Sutherland Springs Baptist Church, before he was found dead in his car. Here is what we know about the suspected attacker.
Editor's note: This story was being written as new information and reports became available. Latest updates include reports of right-wing activists spreading unfounded claims that Devin Kelley was linked to Antifa.
Speculation has been rife in the media about the identity of the man behind "the largest mass shooting" in Texas's history, as described by Governor Greg Abbot. While the police have yet to officially identify the perpetrator, some US media have already come up with the name of Devin Kelley, citing law enforcement sources close to the investigation.
Suspect in Sutherland Springs shooting confirmed to be Devin Patrick Kelley, 26, of New Braunfels, TX. More info to be released later today.

— Texas DPS (@TxDPS) November 6, 2017
The gunman behind the attack was Devin Patrick Kelley, 26, a resident of New Braunfels, a city near San Antonio, Texas Department of Public Safety said on Twitter.As it appears from his Facebook account, since taken down, he was a fan of guns, with his cover photo showing an assault rifle. Purported screenshots of his FB page, whose authenticity cannot be immediately confirmed, appear to feature an Antifascist Action banner, which sparked speculation online about his ties to the left-wing scene.
Since the screenshot was first circulated, a number of reports in fact-checking media have debunked it as a doctored image spread by right-wing activists. No official information about Kelley's possible affiliation with any group or political movement has been made available.
A LinkedIn page purportedly belonging to Kelly states that after he graduated from high school in 2009, he joined the US Air Force. CBS reported that Kelley served from 2010 to 2014, when he was dishonorably discharged in May 2014.
After his stint with the US military, Kelly reportedly taught at a summer Bible school. It is unknown if he was religious or not, as a screenshot of his Facebook groups list shows he was a member of at least four groups on atheism.
Kelley was married, with CBS reporting his wife's name as Danielle Lee Shields.
Kelley was wielding an assault rifle when he went on a shooting rampage in the church, with Freeman Martin, the DPS Regional Director, saying that police discovered "multiple weapons" in his car. However, the Gun Control Act of 1968 explicitly prohibits licensed sellers from selling firearms or ammunition to persons who have "been discharged from the Armed Forces under dishonorable conditions."
Kelley's relatives said they were shocked by the attack and could not imagine he was capable of such an atrocity.
"I never in a million years could have believed Devin could be capable of this kind of thing," Kelley's uncle Dave Ivey said, as cited by NBC news, calling the massacre of churchgoers a "cowardly action" for which his whole family would have to suffer.
The US Air Force confirmed that Devin Kelley served in the 49th Logistics Readiness Squadron at Holloman Air Force Base, spokeswoman Ann Stefanek told NBC.
Kelley was found guilty of violating Article 128 of the Uniform Code of Military Justice twice, for which he was court-martialed in 2012, Stefanek confirmed to AP by email. Article 128 refers to assault "with a dangerous weapon or other means or force" that is "likely to produce death or grievous bodily harm."
Kelley assaulted his wife and their child, Stefanek said. Kelly received a sentence of 12 months confinement and was downgraded to the lowest possible rank, that of a basic airman. He was dishonorably discharged in 2014.
The attacker was wearing all-black tactical gear and a ballistic vest as he opened fire in the Sutherland Springs church. Shortly afterward, he was confronted by a local armed citizen who "grabbed his rifle and engaged" him, Martin said. As the attacker fled, the resident continued to chase after him. Kelley was found dead in his car in Guadalupe County. It is unclear if his death was self-inflicted or he was killed by the citizen.
US President Donald Trump said the Sunday church shooting "isn't a gun situation" but rather a "mental health problem." He called the attacker a "very deranged individual" with "a lot of problems over a long period of time."
"We could go into [gun control policy], but it's a little bit too soon," he said. The president cited reports about an unnamed man who confronted the shooter, saying the attack otherwise "would have been much worse."
You can share this story on social media: