Ground invasion of N. Korea 'only way' to secure its nukes with certainty – Pentagon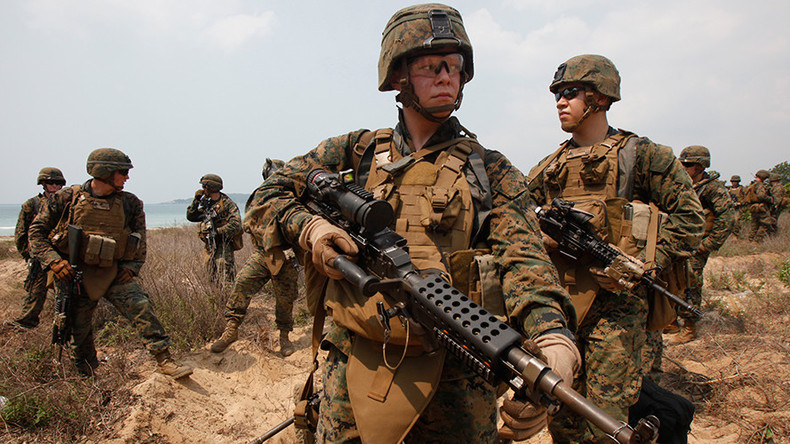 A ground invasion of North Korea is the only way to eliminate its nuclear weapon sites in case of war, while Pyongyang might respond with chemical and biological weapons, a top Pentagon official said in a letter to US lawmakers.
In a document that sheds light on a possible scenario in case of war with North Korea, the Pentagon has offered its vision. Such a conflict could prompt the reclusive state to use chemical (CW) and biological weapons, employing CW agents with the help of conventional munitions, including artillery and ballistic missiles, Rear Admiral Michael J. Dumont, vice director of the Joint Chiefs of Staff, wrote in response to the letter from Representatives Ted Lieu (D-CA) and Ruben Gallego (D-AZ).
"The only way to 'locate and destroy – with complete certainty – all components of North Korea's nuclear weapons program' is through a ground invasion," Dumont wrote.
Even calculating the best- or worst-case casualty estimates is challenging, he added.
North Korea has "a long-standing chemical weapons program with the capability to produce nerve, blister, blood and choking agents," Dumont said.
The letter sent in response to a request from the two representatives for details regarding casualty assessments in a possible conflict with Pyongyang, and the prevention of its retaliation, points out that the Pentagon is continually evaluating North Korea's capacity to attack Japan, Guam, and South Korea – Seoul in particular – with long-range artillery, rockets, and ballistic missiles.
Seoul is home to over 25 million people is the largest target for an artillery or missile strike from the North, Dumont said. Given that Seoul is within reach of North Korean long-range artillery, "casualty estimates will vary significantly depending upon the nature, intensity, and duration of a North Korean attack."
The number of casualties in the Seoul area depends on how many civilians can reach "one of the thousands of underground shelters," as well as the US and South Korean forces' ability to launch counter-battery fire and airstrikes, "missions for which we train constantly."
Admiral Dumont did not detail how the US and its Asia-Pacific allies would counter a nuclear strike by North Korea if it happens, but said Pyongyang "may consider the use of biological weapons as an option."
The letter is dated October 27, but was only reported on by the media on Sunday. "A decision to attack or invade another country will have ramifications for our troops and taxpayers, as well as the region, for decades," Representatives Lieu and Gallego wrote in their letter, according to The Hill.
There is no immediate comment from the Pentagon on the content of Dumont's letter. In a telephone interview with the Washington Post, Lieu said "It's important for people to understand what a war with a nuclear power would look like," citing estimates of 300,000 dead in the first few days alone.
As tensions rise on the Korean Peninsula, observers have attempted to predict the number of fatalities if war breaks out. In early October, a report by 38 North – a website on North Korean affairs run by Johns Hopkins University's School of Advanced International Studies – suggested the death toll could be up to 2.1 million, with around 8 million injured if Pyongyang uses its nuclear weapons against Seoul and Tokyo.
You can share this story on social media: