Anti-fascist group holds rallies across US to protest Trump, Pence (VIDEO)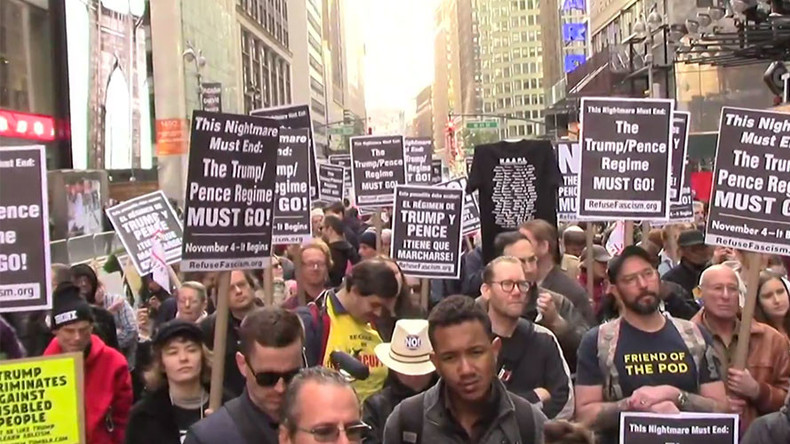 Anti-fascist rallies, described by members of the far-right as the "Antifa Apocalypse," have been scheduled to take place in more than 20 US cities Saturday, calling for the end of the Trump administration.
New York, San Francisco, Seattle, Miami, and St. Louis are among the locations for the mass demonstration, organized by Refuse Fascism. The group is calling for the removal of both US President Donald Trump and Vice President Mike Pence from power.
"Our actions will reflect the values of respect for all of humanity and the world we want—in stark contrast to the hate and bigotry of the Trump/Pence fascist regime," it said in a statement online.
READ MORE: 9 arrested after 'antifa' activists clash with far-right protesters in Oregon & Washington (PHOTOS)
The planned action has been met with cries of an impending apocalypse from some far-right social media users, sparked by a number of viral videos claiming Antifa were stocking up on weapons and planning to launch a civil war on November 4.
Right wing website Infowars also described the planned action as a civil war attempt to "overthrow the government."
The accusations have been strongly denied by the demonstration organizers. "It's absurd. Calling for a civil war?" Andy Zee, one of the group's coordinators, told The Washington Post.
Zee said they are trying to emulate last year's South Korean mass protest movement that eventually led to the removal of President Park Geun-hye from office.
READ MORE: South Korean court upholds President Park's impeachment, removing her from office
Refuse Fascism says it "opposes violence against the people and among the people, but we uphold people's fundamental and legal right to self-defense."
The group says it will protest "day after day and night after night" and will not stop until their demand to remove the Trump/Pence administration is met.