Homeless to clean trash from LA streets, if city council gets way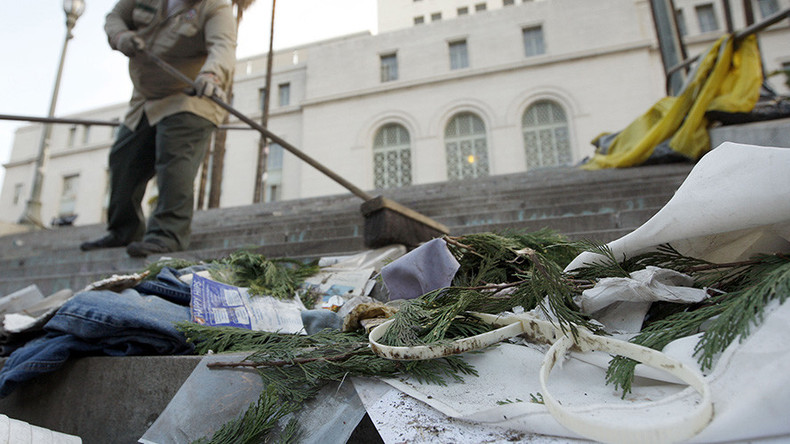 Los Angeles city council will consider a motion to hire homeless people to clean up the city's streets as landfills overflow and waste management services are stretched to the limit.
The city of LA receives an average of 200 requests through its 311 mobile app, which citizens use to flag dumping, debris and trash on city streets. Improper waste disposal consistently ranks in the top three complaints reported through the app.
The city council motion was proposed by members Joe Buscaino, Bob Blumenfield and Nury Martinez on September 29 and the preliminary proposal was presented Wednesday with a full review by the Public Works and Gang Reduction Committee of the proposed scheme expected in three months.
"With homelessness on the rise by 20% from 2016, initiatives like the Transitional Job Opportunities Program (TJOP) can be leveraged to create job opportunities for homeless or individuals vulnerable to becoming homeless," the city councilors wrote.
LA's Department of Public Works' Bureau of Sanitation, which handles such requests, is frustrated by having to deploy "highly trained city employees whose skills are often needed for more complex projects," reports the LA Times.
The pilot program would hire homeless people through local social justice groups, in a similar way to how the city already deals with graffiti, to alleviate the pressure on the city's waste management services. The Clean Streets LA Initiative, launched in 2015 by Mayor Garcetti, was designed to tackle the city's persistent issues with waste management.
"By utilizing social justice organizations to clear litter from the public right-of-way, the City is able to support its homeless population, expand local and transitional hiring goals, further the mission of the Clean Streets Initiative, and identify savings," the motion reads.
Similar schemes have been trialed in cities such as Albuquerque, New Mexico and Seattle, Washington. In Seattle's case, retail giant Amazon collaborated with the local YMCA to provide warehouse jobs for transients. The initiative failed, however, due to a fundamental misunderstanding of homelessness, according to The Bill Fold.
For example, the jobs provided were mostly night shift or swing shift positions which then precluded the transient workers from staying in homeless shelters, which typically close during daytime hours. The work was also physically labor-intensive which was difficult to continue on a regular basis for the homeless workers who were frequently sleep-deprived.
"If you're homeless and you get a seasonal job, it may not help you very much in the long term. It may even hurt you," YWCA Director of Economic Empowerment Mike Schwartz said, as cited by The Bill Fold. "You may have moved into permanent housing thinking that you'll be able to pay your rent, and then all of a sudden the floor drops out from under you."