New York not spooked: City holds annual Halloween parade after terrorist attacks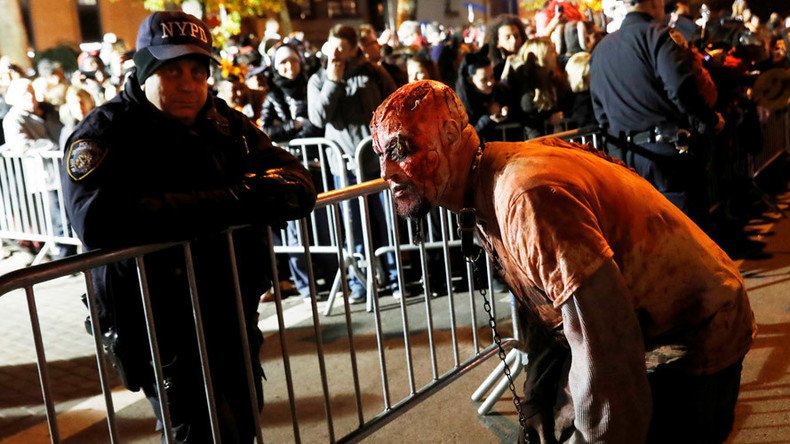 New York City's 44th annual Village Halloween Parade went ahead as planned, with an increased law enforcement presence, hours after an apparent 'lone wolf' terrorist killed eight people and injured nearly a dozen more in lower Manhattan about a mile away.
Millions of New Yorkers filled the streets Tuesday night to witness the world's largest Halloween celebration, about a mile from where a terrorist attack occurred earlier that day. Undeterred, they donned their more surreal costumes and watched as their neighbors marched up Sixth Avenue.
READ MORE: 8 dead, at least 12 injured in Manhattan terrorist attack (LIVE VIDEO)
New York City Mayor Bill de Blasio stopped by to show his support and told residents that they should feel safe.
"We are going to go about our business in the city, and we are not going to be deterred," de Blasio said, according to the Associated Press.
Governor Andrew Cuomo also stopped by and told residents that there would be "increased security at high-profile locations" during the parade.
Emily Stevenson, who has worked the parade for the past several years, said that the "the AK-47s are a new add-on."
The NYPD also closed down the West Side Highway from murray Street to 23rd Street until further notice, citing the investigation.
New Yorkers noticed that the crowd was a little thinner than in previous years and a little quieter.
"It's been quieter tonight, and there's less of the general public showing up," Reneé Nicole Gray, one of the workers at the parade, told the New York Times. "It's more of a tense environment, but we feel safe because of the police presence."
"Tonight we're at a Halloween parade to say you didn't win and you didn't affect us," Cuomo told CNN. "We're living our lives because we're not going to allow the terrorists to win, period."
Many said that holding the parade sends a strong message that New Yorkers will not let terrorists change the way they live.
In recognition of the lives that were lost earlier that morning, the spire at One World Trade Center was lit up in red, white and blue.
You can share this story on social media: