'White Lives Matter' rallies in Tennessee outnumbered by protesters & bystanders (VIDEOS)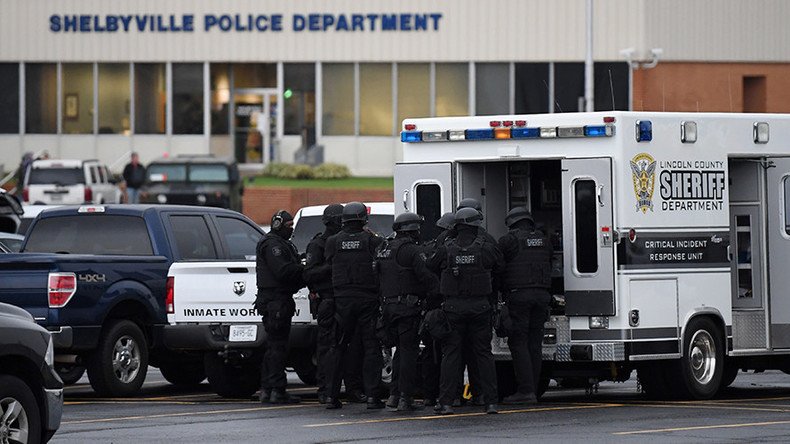 Two 'White Lives Matter' rallies in the Tennessee towns of Shelbyville and Murfreesboro were vastly outnumbered by counter-protesters, forcing the organizers to abruptly cancel the second event.
The first rally from 10am-1pm in Shelbyville, a town southeast of Nashville, attracted some 200 nationalists and at least 400 counter-protesters, according to local media. There were verbal exchanges, but no major incidents reported as police kept protesters and counter-protesters on opposite sides of the road.
READ MORE: 'White Lives Matter' has 2 Tennessee towns on edge
At least one person, however, was detained and charged with disorderly conduct after he exhibited "threatening behavior," police said. The Tennessean reports that the detained man was a counter-protester who went to the 'White Lives Matter' camp, "hoping to have a productive conversation or argument."
In the afternoon, the white nationalists moved on to a second rally, planned from 1:30pm to 4pm in Murfreesboro, a town some 25 miles north. The event, however, was scrapped because of an embarrassingly low turnout.
Local media report that less than two dozen protesters showed up and left after about an hour, while between 800 to 1000 counter-protesters were screened by police to enter the square in downtown Murfreesboro.
The back-to-back events were organized by the League of the South, a white nationalist organization. The organizers said the 2nd event was cancelled due to it being a "lawsuit trap" and because of long security lines.
Sheriff's deputies from nearby Lincoln County just suited up in tactical gear to work the White Lives Matter rally in Shelbyville. pic.twitter.com/d7GbIZOyc1

— Natalie Allison (@natalie_allison) October 28, 2017
Senator Lamar Alexander (R-Tennessee) condemned the organizers of the controversial rallies, saying that while "the Constitution gives everyone the right to assemble, the Constitution makes it absolutely clear that we are all Americans without regard to race."
"The views of the white nationalists, Nazis, white supremacists and the Klan are wrong, they are un-American, they are not welcome, and we need to be loud and clear about that," Alexander added.
You can share this story on social media: