'White Lives Matter' has 2 Tennessee towns on edge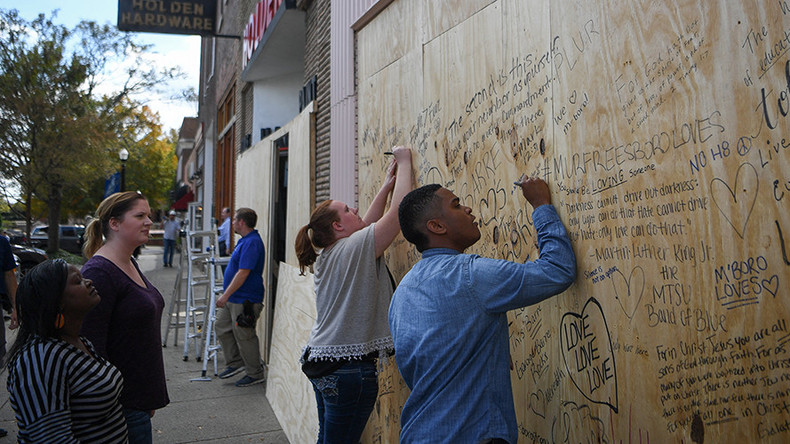 Businesses are shutting their doors, and police are setting up checkpoints in preparation for two back-to-back "Southern Nationalist" rallies in Tennessee over the weekend.
Police are preparing for the "White Lives Matter" events scheduled for Saturday in the towns of Shelbyville and Murfreesboro.
The rallies are being organized by the League of the South, a group that calls themselves a "present- and future-oriented Southern Nationalist organization" on their website.
Michael Hill, the group's president released a statement Wednesday, warning his followers not to disobey authorities, even if they feel their free speech rights are being violated. Instead, Hill advises his followers to consult attorneys that will be on scene.
"Stand your ground, speak your mind and proclaim your message, but do not initiate physical contact with anyone who opposes you," Hill said. "Engage in violence, and at the proper level, only in defense of your own person, that of your compatriots, and your property."
The group said they would be joined by members of the Nationalist Front, the National Socialist Movement (NSM) and the Traditionalist Workers Party (TWP) who will march to call attention to "the continuing influx of African immigrants/refugees into middle Tennessee, and to protest the recent black-on-white church shooting in Antioch."
The group plans to begin by holding a sidewalk rally in Shelbyville from 10:00am to 1:00pm and then move to Murfreesboro to protest from 1:30pm to 4:00pm.
The Shelbyville Police Department said they have been working with other agencies and have planned "extensively in preparation for the rally."
"We ask all participants on any side to respect each other's rights and respect the role of law enforcement in maintaining peace and discouraging aggressive behavior," the police said in a statement.
Law enforcement warned residents who live in the town to avoid the rallies if possible.
In the city of Murfreesboro, Sheriff Mike Fitzhugh has created a "Secure Public Square" in the center of town, which will only be accessible through checkpoints with metal detectors. They have also released a list of prohibited items that will be banned in the area, including any items that could be used as a weapon, as well as bags, containers and masks.
"The City, County, and its partners are committed to both the Constitution and public safety," Fitzhugh said. "Be assured, officers will take every step necessary to protect both. The slightest indication of disruption or violence will initiate immediate law enforcement action to uphold the rights of citizens and ensure their safety."
Several local business owners and residents in both towns have been advised to board up their windows and doors ahead of the gatherings.
Tennessee Bureau of Investigation (TBI) Director Mark Gwyn released a statement Friday, saying they will closely monitor the rallies "given how similar events have recently unfolded in our country."
In August, the "Unite the Right" rally in Charlottesville, Virginia turned violent when a white nationalist sympathizer drove a car into a crowd of counter-protesters, killing one and injuring 19.