US planned to 'harass & attack' Soviet personnel in Cuba – JFK files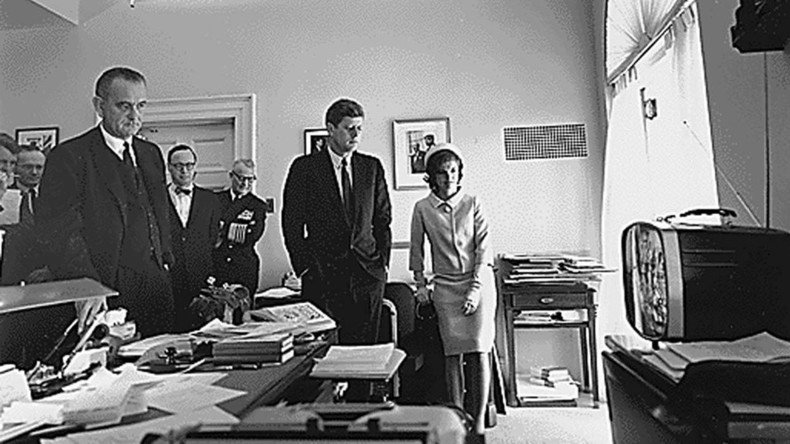 National Security Council meeting notes on the covert CIA program 'Operation Mongoose' have revealed the lengths to which the US was willing to go to remove Fidel Castro's Cuban government.
The 1962 file, released Thursday as part of a cache of previously classified documents on the assassination of John F Kennedy, states that the NSC considered a plan of "attacking and harassing Soviet personnel within Cuba." However, the document doesn't provide any finer details on the proposal.
READ MORE: JFK files: Soviets feared 'irresponsible US generals' would attack after assassination
Members of the council also debated targeting the island nation's crops by "introducing biological agents which would appear to be of natural origins" – an idea supported by then-National Security Advisor McGeorge Bundy.
"Mr. Bundy said that he had no worries about any such sabotage which could clearly be made to appear as the result of local Cuban disaffection or of a natural disaster, but that we must avoid external activities such as release of chemicals, etc., unless they could be completely covered up," the document reads.
Other suggested measures included distributing explosives to Cuban insurgents, using balloons to drop leaflets over the country, employing submarines to broadcast anti-government radio messages and "counterfeiting" operations.
The NSC also explored the possibility of infiltrating Cuban radio and TV channels but acting on advice from council member and former American broadcast journalist, Edward R Murrow, decided against the move.
"Mr Murrow explained the far-reaching reactions that the Cubans could mount against US radio stations, and said that he felt on balance it would not be profitable to provoke this kind of electronic warfare," the minutes read.
Conspiracy theories have abounded since Kennedy was shot while traveling in an open-top limousine in Dallas in November 1963.
READ MORE: WikiLeaks offers $100k for unreleased JFK documents
The report from the Warren Commission in September 1962 said that Lee Harvey Oswald had fired the shots from the Texas School Book Depository building. Oswald was later killed while in the custody of Dallas police by Jack Ruby, a local nightclub owner.
The US government released 2,800 classified files on the assassination of JFK Thursday night, with President Donald Trump saying that the public deserves to be "fully informed about all aspects of this pivotal event."
After intense lobbying from the CIA, FBI and State Department, some documents remain unreleased. The files will now undergo a further six-month review. A new deadline has been set for their release in April 2018.
You can share this story on social media: