US-led anti-ISIS coalition confirms more civilian deaths in Iraq & Syria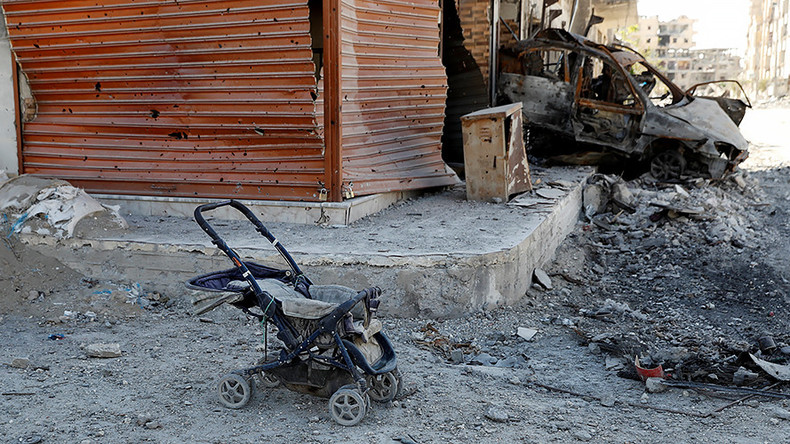 The US-led coalition fighting Islamic State has confirmed another 51 "unintentional civilian deaths" caused by its airstrikes in Iraq and Syria, raising the number of civilians it has acknowledged killing since 2014 to at least 786.
Combined Joint Task Force – Operation Inherent Resolve (CJTF-OIR), as the coalition is officially known, said that in September, it assessed 127 reports suggesting that their strikes resulted in civilian casualties and deemed that 16 of them were "credible," meaning that it was "more likely than not a Coalition strike [that] resulted in a civilian casualty," according to a statement published Thursday.
The deadliest occurrence was a June 25 strike near Al Mayadin, Syria, in which the coalition destroyed a building held by Islamic State (IS, formerly ISIS/ISIL), killing 12 civilians.
Of the remaining 111 reports, the coalition deemed six were duplicates of previous reports and another 105 were "non-credible," citing "insufficient information." In September, the coalition received an additional 302 new reports and is currently assessing a total of 519 open reports from 2014 to today.
"The Coalition and our partner forces in Iraq and Syria take extraordinary care to protect the civilian population. We take all reports of civilian casualties seriously and assess all reports as thoroughly as possible," says the statement.
The coalition said they have conducted 27,566 strikes since Operation Inherent Resolve began in 2014, resulting in at least 786 civilian casualties. In total, they claim 2.26 percent of coalition strikes have resulted in possible civilian deaths. During that time, the coalition claims they have received 1,266 reports of possible civilian casualties and deemed 194 of them or .35 percent as being credible.
However, Airwars, a nonprofit group that documents reports of civilian deaths in Iraq and Syria, puts the civilian death toll at a much higher number, claiming there have been a minimum of 5,637 to 8,636 civilians killed as the result of the coalition's actions.
Coalition bombing in Raqqa led to an estimated 80 percent of residential buildings in the city being rendered uninhabitable. An overwhelming majority of civilians fled the city, with close to 1,900 people killed in the fighting.
Coalition strikes accounted for at least 1,300 of those deaths, according to Airwars.
The CJTF-OIR said Iraq's security forces lost 1,200-1,500 personnel in the battle for Mosul from October 2016 to July 2017, while the US-backed Syrian Democratic Forces lost 1,100 troops in the battle for Raqqa.
On Thursday, Iraqi Prime Minister Haider al-Abadi told IS militants to "choose between death and surrender" as he announced an offensive on the region of Rawa and al-Qaim close to the Syrian border.
"The heroic legions are advancing into the last den of terrorism in Iraq to liberate al-Qaim, Rawa and the surrounding villages and hamlets," al-Abadi said, according to the BBC.
You can share this story on social media: