Five takeaways from Trump's quickie press conference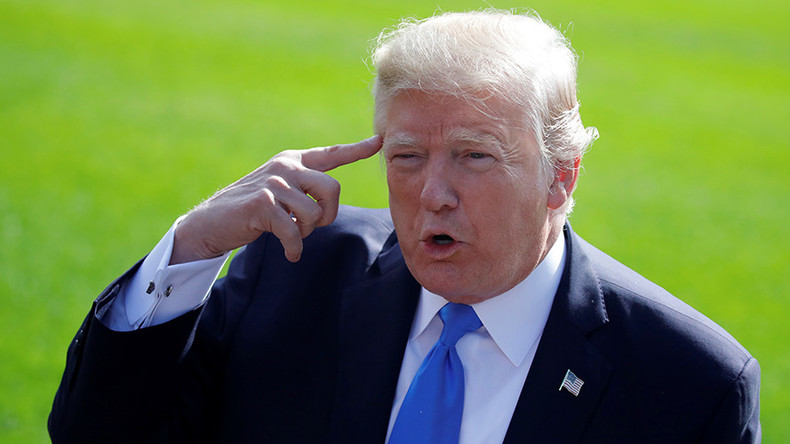 Touching on the Russian uranium deal, Steele dossier, Obama's administration, the Clinton campaign, opioids and relations inside the GOP, President Donald Trump held a rapid-fire news conference on the White House lawn before departing for Texas.
Trump is traveling to Dallas for a briefing on hurricane recovery efforts, before attending a roundtable with Republican donors Wednesday.
OBAMA'S WATERGATE
Trump called the Obama administration's approval of the 2010 sale of American uranium to a Russian-based company a "modern-age" Watergate.
"I think the uranium sale to Russia and the way it was done ‒ so underhanded with tremendous amounts of money being passed ‒ I actually think that's Watergate of the modern age," the president said.

His comments coincides with Congress opening an inquiry into the sale of US uranium mines to a Canadian-based company in which a Russian corporation had a major stake. Trump took interest in the deal during the presidential campaign and claimed Clinton received bribes for approving it in the form of donations to the Clinton Foundation.
FUSION GPS
Trump and other Republicans latched onto Tuesday night's revelations tying Hillary Clinton's presidential campaign to the funding of a dossier filled with allegations about Trump's ties to Russia. The Washington Post revealed that the campaign and the Democratic National Committee worked with Fusion GPS, a political research firm, for several months and helped fund research that ended up in the dossier.
Trump has previously called the material "phoney stuff" and "fake news."
"I think it's a disgrace. It's a very sad commentary on the politics of this country," said Trump.
AMBUSH IN NIGER
Asked about the Niger ambush, where four US soldiers died and two others were injured during a confrontation with Islamic State (IS, formerly ISIS/ISIL), Trump boasted that the US was "decimating" IS. As the terrorists were defeated in the Middle East, they would move to Africa and other places, "and we meet them there."
"We have done more in eight months than the previous administration did in many years," said Trump. "It is a tough business; it's a tough war."
Responding to the ongoing controversy over his telephone call to the Myeshia Johnson, the widow of Army Sergeant LaDavid Johnson who died in the ambush, and the claim that he forgot the soldier's name, Trump said she "sounds like a lovely lady" and claimed he never hesitated to call her husband by his name.
"I was really nice to her," Trump said, adding that he respects Gold Star families. "Nobody has more respect than I do."
OPIOID CRISIS
When reporters brought up that the administration has yet to issue an executive order declaring the opioid crisis a national emergency, Trump responded that there will be a "very big meeting" about it.

REPUBLICAN PARTY
Senator Jeff Flake (R-Arizona) announced his resignation on the Senate floor on Tuesday saying he won't seek re-election in 2018 and complaining the current values of Republican party and the Trump administration where unrecognizable to him.
"I don't blame him for leaving," Trump said when asked about Flake's announcement. "I think he did the right thing for himself. This way he can get out somewhat gracefully."
Flake is the second outspoken Trump critic in the Senate who said he'd bow out in 2018, after Bob Corker (R-Tennessee). Asked if Flake and Corker might sabotage his tax reform plans, Trump said he hoped both would "do the right thing."
"I think they feel they have to do it for the country," he added.
"We have, actually, great unity in the Republican Party," said Trump, contrasting it with the animosity between Clinton Democrats and the backers of Senator Bernie Sanders (I-Vermont).