Arizona senator bows out of 2018 race in anti-Trump speech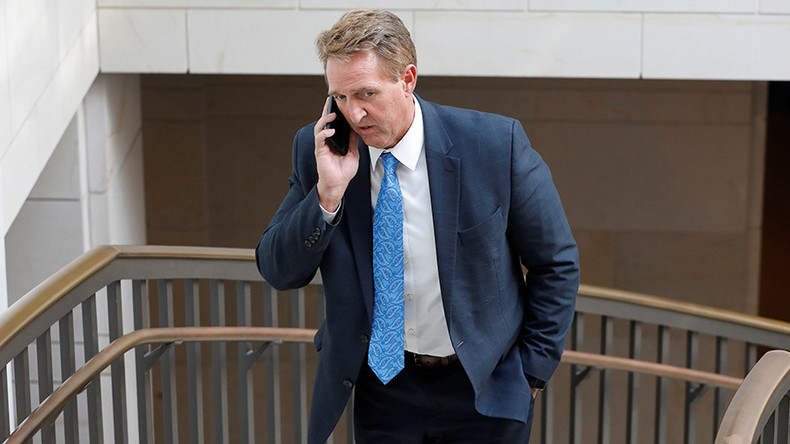 Senator Jeff Flake (R-Arizona) has announced he will run for reelection in 2018, citing the Trump-era GOP politics as too mean in a fiery speech on the Senate floor. The junior senator has been an outspoken Trump critic.
"We must never regard as 'normal' the regular and casual undermining of our democratic norms and ideals," said Flake on Tuesday, shortly after President Donald Trump met with the Republican senators on Capitol Hill.
Personal attacks, threats against principles, freedoms and institutions and the "flagrant disregard for truth and decency" were the "appalling features of our current politics" and "should never be regarded as normal," Flake said.
"I will be better able to represent the people of Arizona and to better serve my country and my conscience by freeing myself from the political considerations that consume far too much bandwidth and would cause me to compromise far too many principles," said the senator. "To that end, I am announcing today that my service in the Senate will conclude at the end of my term in early January 2019."
Flake has been one of the most prominent critics of the president, but he has been struggling in the polls. The most recent survey found his approval rating at only 18 percent among Arizona voters.
Describing himself as a traditional libertarian-leaning conservative, who believes in free trade and open borders, Flake told the Arizona Republic that he feels out of step with the Trump-dominated GOP.
The norms and values that keep America strong and the world stable are undermined by the level of thought "that goes into 140 characters," Flake added, referring to Trump's frequent tweets.
"The notion that one should say and do nothing in the face of such mercurial behavior is ahistoric and, I believe, profoundly misguided," added Flake.
Flake is the second outspoken Trump critic to announce his retirement in recent weeks. Last month, Senator Bob Corker (R-Tennessee) also said he would not seek re-election, and proceeded to clash with the president in public.
After Trump blasted him on Twitter on Tuesday morning, Corker called him a "serial liar" and accused him of "debasing" the country, adding that he regretted supporting his candidacy.
White House press secretary Sarah Huckabee Sanders told reporters that the senators made the smart move, given their states' support for Trump.
"I don't think that the numbers are in the favor of either of those two senators in their states, so I think this was probably the right decision," Sanders said on Tuesday afternoon, following Flake's speech.
The other Arizona senator, John McCain, has had an even longer running feud with Trump, casting the decisive vote against repealing Obamacare in July and denouncing "half-baked, spurious nationalism" in a speech last week.
McCain's Senate term runs out in 2022, but he revealed in July that he is fighting an aggressive form of brain cancer, with a "very serious" prognosis and low chances of survival.
You can share this story on social media: