Senator who sponsored US sanctions against 'adversaries' won't seek re-election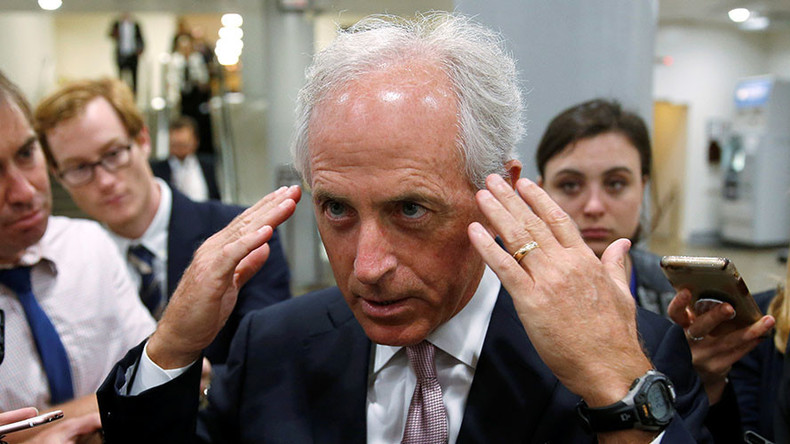 Senator Bob Corker (R-Tennessee) will leave the Senate when his term expires at the end of 2018, and not seek re-election. The chairman of the Senate Foreign Relations Committee will become the first senator in the current Congress to retire.
"After much thought, consideration and family discussion over the past year, Elizabeth and I have decided that I will leave the United States Senate when my term expires at the end of 2018," Corker, 65, said in a statement on Tuesday.
As the chairman of the Senate Foreign Relations Committee, Corker has been one of the key lawmakers involved in international arms sales and sanctions. He co-sponsored the June bill that tied President Donald Trump's hands when it came to sanctions against Russia and Iran. Corker called the bill, which passed 98-2, "a significant shift of power back to the American people's representatives."
The former mayor of Chattanooga was also a key player in approving the sale of US weapons overseas. Before any major arms sales are finalized, they must first be approved by the chairman and ranking member of the Senate Foreign Relations Committee and House Foreign Affairs Committee, before a statutory, 30-day congressional review process can begin.
In June, Corker put a hold on American arms sales to Gulf Cooperation Council member states (GCC), a regional group that includes Saudi Arabia, the United Arab Emirates, Bahrain, Kuwait, Oman, and Qatar.
In a letter to Secretary of State Rex Tillerson, Corker said he would refuse to approve the weapon sales until a dispute between Qatar and neighboring Arab countries could be resolved. The letter came just after Trump arranged a $110 billion arms deal with Saudi-Arabia.
Once rumored to be a candidate to head Trump's State Department, Corker fell out with the president back in August, calling his competence into question following Trump's reaction to violence at a white nationalist rally in Charlottesville.
Trump "has not yet been able to demonstrate the stability, nor some of the competence that he needs to demonstrate in order to be successful," Corker said. "He also, recently, has not demonstrated that he understands the character of this nation. He has not demonstrated that he understands what has made this nation great."
Striking back, Trump called Corker's statement "strange," adding that Corker was "constantly" asking him whether he should run again in 2018.
In mid-September, Corker met with Trump at the White House, where the two had a "very productive meeting" about "a wide range of shared legislative priorities for the fall session," according to the Tennessean.
Announcing his decision to retire, Corker said that when he was elected in 2007, he could not "imagine serving for more than two terms" in the Senate. He added that he believes the "most important public service" he has to offer the country "could well occur over the next 15 months."
"I want to be able to do that as thoughtfully and independently as I did the first 10 years and nine months of my Senate career," Corker said.
Corker's retirement could create a highly contested Republican primary. Representative Marsha Blackburn (R-Tennessee) told The Hill on Tuesday that she is considering running for Corker's Senate seat in 2018.
Earlier this month, conservative activist Andy Ogles announced his intention to run against Corker in the primaries. His candidacy was backed by several prominent Trump supporters.
Nashville businessman and Republican donor Lee Beaman said last week that he planned to raise $4 million over the next 13 months to "provide President Trump with an ally in the US Senate that he will be able to depend upon," according to the Tennessean.
You can share this story on social media: