Drones, robots & urban swarm warfare: The Pentagon appeals for public's help
Published time: 24 Oct, 2017 17:12
Edited time: 25 Oct, 2017 08:32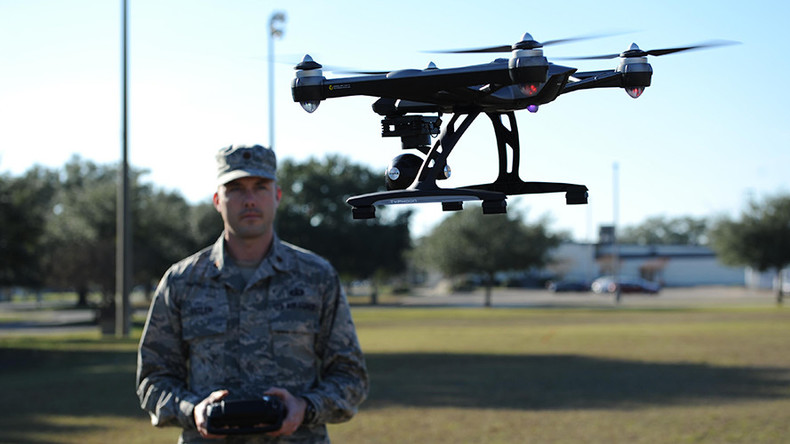 The Pentagon is looking for help with its drone swarm warfare. Participants will help the Department of Defense (DoD) better advance its urban combat capabilities using an army of unmanned air and ground robots.
The DoD is working to "allow upwards of 250 air and ground robots to support our small unit infantry forces in complex urban environments," and hopes to use emerging technologies to do so.
The Pentagon's research arm, Defense Advanced Research Project Agency (DARPA), announced its "drone sprints" project earlier this month.
It called on developers to create solutions to issues surrounding the control of hundreds of drones and unmanned ground vehicles in an urban combat environment.
The Offensive Swarm-Enabled Tactics' (OFFSET) goal is to create "highly capable, heterogeneous [diverse] swarm systems with upwards of 250 collaborating autonomous swarm elements," DARPA's OFFSET Program Developer Timothy Chung explained.
DARPA has awarded contracts to teams led by defense giants Raytheon BBN Technologies and the Northrop Grumman Corporation that will design, develop and demonstrate a swarm system architecture.
The systems will include both an "in-game based environment as well as a physical test bed to advance the innovation, interaction, and integration of novel swarm tactics." DARPA explains.
The DoD wants to expand on five strategic areas: swarm tactics, swarm autonomy, human swarm-teaming, physical experimentation and virtual environment. It's planning to "invent new ways of communicating with these swarms and conveying what it is that we really want to get done with these air and ground robots."
Swarm sprints
DARPA and its systems teams will engage developers and user audiences through "swarm sprints," that will take place every six months. Participants will submit proposals and then work with the teams to create and test tactics and technologies.
"We imagine seeing swarm tactics where you'll be conducting reconnaissance with a swarm of air and ground robots, or identify ingress and egress points, or perhaps identify novel ways to construct a perimeter of operations," Chung said.
Each sprint will end with physical and virtual testing of the technologies with DARPA, the sprinters, teams and soldiers who can help OFFSET better meet operational needs.
"By having swarm sprints at regular intervals, we're able to ensure that we're keeping up with the latest technologies – and are in fact helping inform and advance those technologies – to better suit the needs of the OFFSET program," Chung said.
First swarm sprint
The first swarm sprint is looking for "novel swarm tactics that will help the commander isolate an urban objective."
"The focus of this effort is the generation of swarm tactics for a mixed swarm of 50 air and ground robots to isolate an urban objective within an area of two square city blocks over a mission duration of 15 to 30 minutes," DARPA explained.
The Pentagon's Strategic Capabilities Office experimented with a drone swarm last October, with the Perdix drone system employing 103 mini surveillance drones as a single unit. The drones were deployed from fighter jets and were used for high-altitude deployment.
If you are interested in helping the Pentagon better wage its urban warfare, proposals must be submitted by November 29.