Indonesian military chief invited to US, then barred from entering at last minute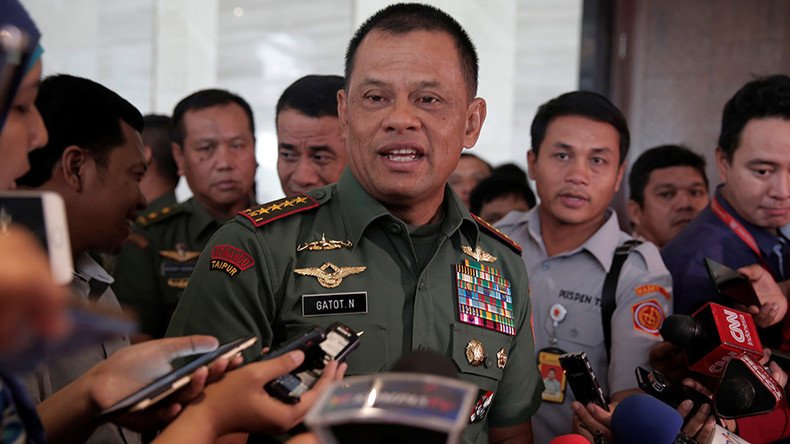 The US embassy in Jakarta was forced to apologize after the head of the Indonesian armed forces was denied entry into the US at the last minute despite having a valid visa and an invitation by the US chief of staff himself.
General Gatot Nurmantyo, commander of Indonesian National Military, was about to board a plane from Jakarta to Washington, DC late Saturday when he was stunned by the news that he and his wife were banned from the country by the US Customs and Border Protection. The general, who was heading to a defense conference on countering violent extremism at the invitation of US Chairman of Staff General Joseph Dunford, decided to postpone his visit until Washington clarifies the matter.
"The military commander and his spouse and the delegation decided not to fulfil the invitation of the US military commander until there is a formal explanation from the United States," Major General Wuryanto said, commenting on the incident, as cited by ABC.
Speaking to Reuters, Indonesian Foreign Minister Retno Marsudi said that Jakarta appealed to the US State Department and the US embassy for clarification. A US deputy ambassador has been summoned by the ministry on Monday.
An apology issued by the US embassy on Sunday, however, indicates that the general was more likely to have fallen victim to bureaucratic bungling than to a deliberate snub.
"US Ambassador Joseph Donovan has apologized to Foreign Minister Retno Marsudi for any inconvenience to General Gatot," the US embassy said in a statement, noting that it remains in touch in the general's entourage and hopes to work the issue out.
"The US Embassy was, and remains, prepared to facilitate the General's travel to the United States," it reiterated.
The same conference last year, also hosted by Dunford, saw senior military chiefs from 43 nations, including Indonesia, flocking to Washington to discuss the challenges posed by international terrorism.
General Nurmantyo has been known for his controversial statements back home. Earlier this year, he halted cooperation with the Australian military over training material displayed at Australia's Special Forces base in Perth after an Indonesian instructor found it to be mocking an official philosophical theory of the Indonesian state, Pancasila. The cooperation was only fully restored after Australia's Chief of Army personally extended his apologies to Nurmantyo while on a visit to the country.
At the height of the scandal, Indonesian President Joko Widodo attempted to distance himself from the outspoken and increasingly independent general, known for his growing political ambition, saying that it was not his initiative and stressing that the relationships with Australia were "just fine."
You can share this story on social media: