US school in hot water after history lesson pic showed black girl on leashes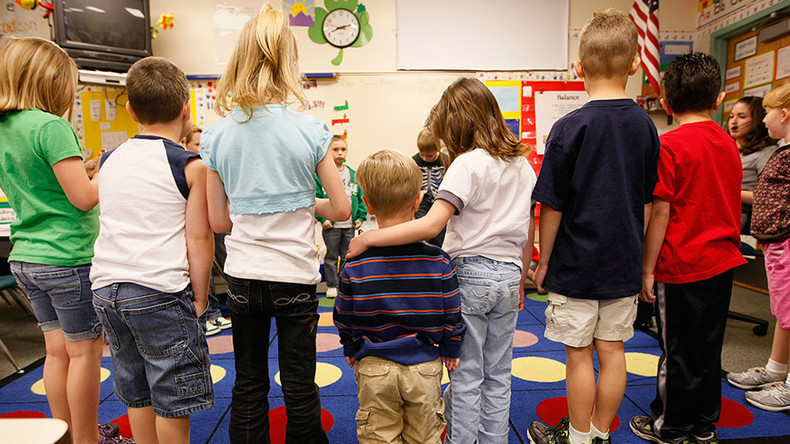 Massachusetts elementary school officials are in hot water after a classroom photo from a history lesson showed a smiling teacher and two white students holding their black classmate with "leading strings."
The notorious photo was taken during a lesson about the Pilgrims, early European settlers in Plymouth, Massachusetts, for third graders in Mitchell Elementary School in Bridgewater town earlier in October, local media reported.
The class was led by the Plimoth Plantation Association which offers "personal encounters with history built on thorough research" about Colonial English community in the 1600s," according to the information on the group's website.
The girl, who is reportedly 8 years old, is pictured with "lead strings" which were used in the 17th century to support children learning to walk. She apparently volunteered to take part in the installation.
Parents in Mitchell Elementary School were shocked when they've learnt about such a "history" lesson.
"If you look at that picture out of context, what are you going to think? It's clearly what it looks like, it's disgusting," one parent told CBS Boston.
"It seems like enslavement of a person. Even the color of the child has nothing to do with it," another parent, identified as Andrea St. Clare, added.
Bridgewater-Raynham Regional School District apologized for the 'slavery' photo in a statement on Facebook on Thursday evening.
"We realize without this context added to the photo that was shared by the classroom teacher it could be perceived differently. Please note it was never the intent of the lesson to demean or degrade any one person or group," Superintendent of Schools Derek Swenson wrote, adding that the local authorities stared an "inquiry into the complaint."
A portion of the lesson "focused on 17th century attire — particularly the garments worn by parents, children, toddlers and infants," Swenson cited the Director of Education from Plimoth Plantation as saying.
"Specifically the garment worn by toddlers commonly used tethering straps to assist them when learning to walk," Swenson added.
The photo was immediately dubbed "racist" and "distressing", with people wondering why a black child should wear these leashes at the lesson.
The criticism fell mostly on the smiling teacher. Some people said that she should be fired immediately.