Pastor returns 5yo child's repossessed gravestone after public backlash
Published time: 21 Oct, 2017 02:29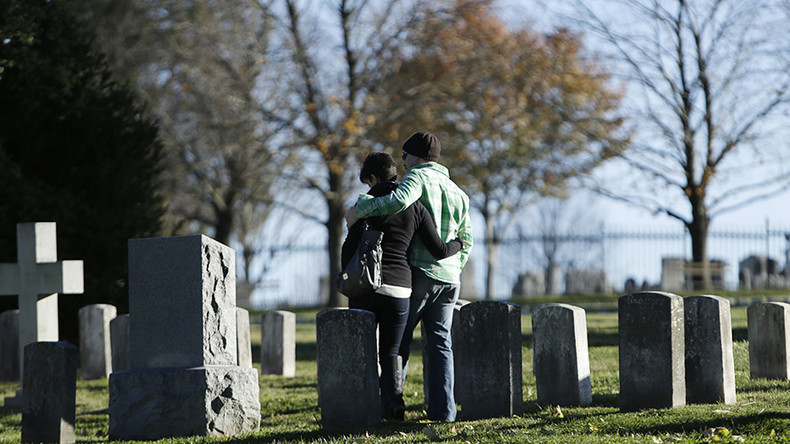 A North Carolina pastor who removed a child's headstone from a graveyard as an incentive for his parents to pay their bill has reinstated the monument following a public backlash.
Five-year-old Jake Leatherman from Hickory, North Carolina, died of juvenile leukemia last year. On Monday, Jake's parents called the media to say their son's headstone had been removed following a month-long payment dispute with the pastor, who runs the Southeastern Monument Company.
"He repossessed it, like it was a car," the boy's mother, Crystal Leatherman, told WBTV on Monday.
Rev. JC Shoaf, 73, who has been a minister for 50 years, said he removed the headstone in the hope it would give him "some leverage," but started to have second thoughts afterward.
A Hickory family found this when they visited the grave of their 5-year-old son. Coming up at 5, I'll tell you why the marker is missing pic.twitter.com/wdyIJ32aNF

— Kristen Hampton WBTV (@KHamptonWBTV) October 17, 2017
"I hated to do it. I'm not heartless and I have had a child die, so I know how it feels. But what was I to do? In hindsight, I should have just written it up as a bad debt," Shoaf told the Observer on Tuesday.
At the time, Shoaf said he installed the headstone without full payment out of sympathy for the grieving family, but was hoping to resolve the situation "even if I have to take a loss on it" as it "could ruin my reputation".
By Friday morning, the headstone had been put back in place at no expense of the family, according to the reverend's grandson, Justin Shoaf, who works at the monument company and who had originally installed the headstone.
"My grandfather did what he thought was right and put business aside today, even though he will never see the couple thousand that is owed to him and the damage to his reputation and to our family cannot be fixed," said Shoaf to RT.
"We'd like very much so to return the grave marker back to Woodlawn Cemetery and give our appreciation to the media for helping us get this resolved, that the family would not owe us anything, we will mark their bill paid in full," Rev. Shoaf said in a statement to WBTV.
"We waive all expenses from the Leatherman family. If there are any charges to be paid to the cemetery to have this reinstalled, we will pay all expenses for doing that, and we're sorry this has happened," he added.
Shoaf went on to say his grandparents have been tormented by the incident, "receiving threats and phone calls all hours of the day and night, as well as other members in the family being bullied through social media."