France requests more US troops to fight ISIS in West Africa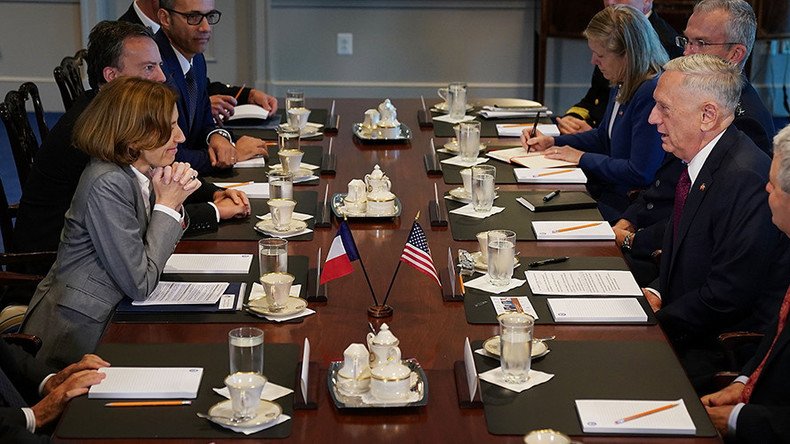 The US must step up support for French troops fighting Islamic State in West Africa, the French defense minister said during a visit to Washington, even as US officials sparred over the ambush in Niger that left four US service members dead.
"Much more needs to be done," Defense Minister Florence Parly said after a meeting Friday with her US counterpart James Mattis and National Security Advisor H.R. McMaster, according to Reuters. "We can't be and don't want to be, the praetorian (guards) of sovereign African countries. They must be made able to defeat terror on their own."
Without US support, Parly said, the mission is likely to fail.
The French-backed G5 Sahel force is intended to bolster the security capabilities of Chad, Niger, Burkina Faso, Mali and Mauritania, all former French colonies in West Africa. Mattis said the US has sent around 1,000 US troops to Niger in order to provide training and security assistance to the country's armed forces.
Islamist insurgencies sprung up in the area after NATO-backed rebels overthrew the Libyan government in 2011. Following the murder of Colonel Muammar Gaddafi by the rebels on October 20 that year, Libya collapsed into chaos and anarchy, allowing Islamic State (IS, formerly ISIS, ISIL) and other militants to establish footholds and arm their followers using weapons pillaged from Libyan arsenals.
In 2012, France intervened in Mali to stop IS-backed guerrillas. Some 4,000 French troops remain in the region as part of Operation Barkhane, working alongside 10,000 UN peacekeepers.
Washington has been providing bilateral assistance, intelligence and training for regional security operations but it is ambivalent towards the French-backed Sahel force and has pushed back against UN requests to support it.
Following the meeting with Parly, Mattis met privately with Senator John McCain (R-Arizona), head of the Armed Services Committee and a prominent backer of the Libyan intervention, who demanded answers about the Niger ambush that left 4 US soldiers dead and injured two more.
The Pentagon had said that 40-50 militants ambushed a 12-man US force on joint patrol with Nigerien troops near the border with Mali on October 4. The patrol was seen as routine and had been carried out nearly 30 times in the six months before the attack.
Emerging from the meeting, Mattis promised better lines of communication with Congress. McCain had threatened to subpoena the White House for information regarding the ambush, but said Mattis was "clearing a lot of that up now."
While it was President Barack Obama who set up US presence in Niger, the Trump administration needs to maintain it, said Senator Lindsey Graham (R-South Carolina), another member of the committee.
"The war is headed to Africa. It is beginning to morph as we suppress the enemy in the Middle East. They are going to move, they are not going to quit," said Graham, according to C-SPAN. "We don't want the next 9/11 to come from Niger."
You can share this story on social media: