McCain threatens White House with subpoena for info on Niger attacks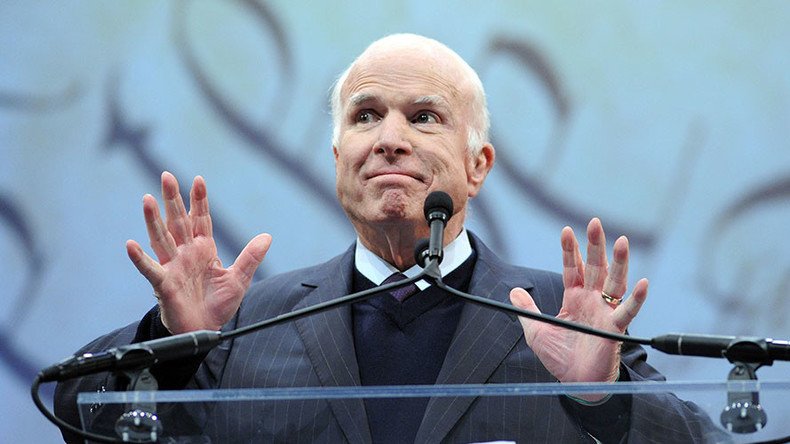 Senator John McCain (R-Arizona) says that he will subpoena the White House for information regarding the recent attacks in Niger, which killed four US servicemen. The issue could become a new bone of contention in McCain's ongoing feud with President Trump.
McCain told reporters Thursday that the Senate Armed Services Committee, which he chairs, has been told "very little" about the operations in Niger that left four US soldiers dead and two wounded. He added that the committee may have to take legal action to get answers from the White House.
"There's a mindset over there that they're a unicameral government," McCain said, according to the Washington Post. He added that "it was easier under Obama" to get information about military operations.
Senator Lindsey Graham (R-South Carolina), another prominent member of the committee, also said that they have not received the proper information from the White House about the operations.
"I'm all for going after terrorists," Graham added, "but I want to know before I read about it in the paper where our people are and what they're doing."
McCain said the committee "may require a subpoena" to get the information that they have not received from the White House.
The senator from Arizona did not go into detail about what information he was expecting to receive, saying that he was interested in "all the specifics."
"That's why we're called the Senate armed services committee. It's because we have oversight of our military," McCain said, according to CNN. "So we deserve to have all the information."
Earlier this month, four US Special Forces troops were killed and two wounded in an ambush while on a joint patrol with Nigerien forces near Niger's border with Mali.
President Donald Trump has come under fire for "insensitive" remarks he made to the widow of one of the soldiers as she was en route to the airport to receive his body. According to Rep. Frederica Wilson (D-Florida), who was in the car with the grieving widow, Trump told her that her husband "knew what he signed up for."
White House Chief of Staff Gen. John Kelly told reporters at Thursday's press briefing the Pentagon is investigating the attacks in order to "find out what happened and why it happened."
Senator Mike Rounds (R-South Dakota) called for the Pentagon to finish their investigation before the committee took its next steps.
"We'll allow General Mattis to do his investigation," Rounds said. "At that point, whether it be in a classified session or an unclassified hearing, I would suspect that we'll have a report delivered."
However, McCain did not agree, telling reporters that he was not willing to wait for the Pentagon to conclude their investigation.
"That's not how the system works. We're coequal branches of government," McCain said. "We should be informed at all times."
However, McCain did not acknowledge his role in sending US troops to the region in 2011 in order to overthrow Colonel Muammar Gaddafi. After the US invaded Libya, the country collapsed into chaos and anarchy, allowing Islamic State (IS, formerly ISIS, ISIL) militants to take control and grow their forces using weapons left over from Gaddafi's forces.
In 2015, Ahmed Gaddafi Al-Dam, a cousin of Muammar Gaddafi, told RT Arabic that IS militants stole chemical weapons from underground storage facilities in Libya that were not properly guarded and used the weapons.
Since then, neighboring countries have seen a rise in terrorist attacks, including Mali and Niger. Mattis said that the US has sent 1,000 US troops to Niger in order to provide training and security assistance to the Nigerien Armed Forces, who are still fighting terrorists in the region.
Before taking office, Trump also supported the Libyan intervention, making a video blog in 2011, urging the US to remove Gaddafi.
Trump and McCain have been feuding recently, with the senator denouncing "half-baked, spurious nationalism" while receiving the National Constitution Center's Liberty Medal. Trump responded by saying that he may "fight back" at some point, adding that "it won't be pretty."
You can share this story on social media: