ISIS stole sarin gas from Libya stores & has already used it, Gaddafi's cousin tells RT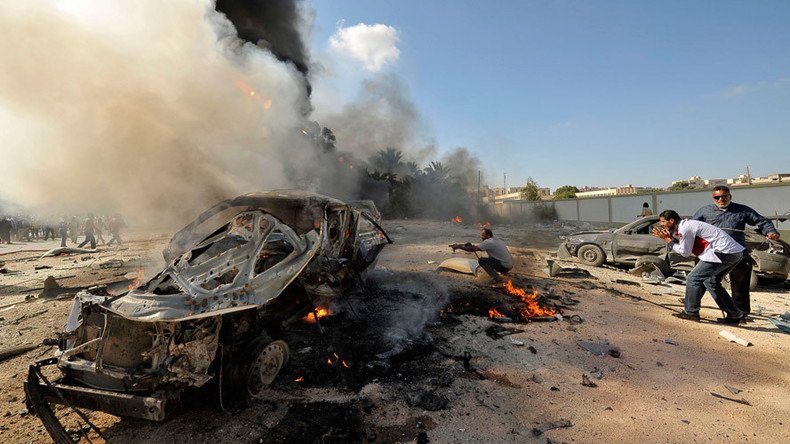 Islamic State militants have managed to steal chemical weapons from underground storage facilities in Libya that were not properly guarded and the gas has already been used, a cousin of the late Libyan leader Muammar Gaddafi told RT Arabic in an exclusive interview.
"ISIS has managed to find some of the secret underground storage facilities, still holding chemical weapons, hidden in the desert. Unfortunately, they weren't properly guarded," said Ahmed Gaddafi Al-Dam, a cousin of Muammar Gaddafi, the Libyan leader who was killed in 2011.
READ MORE: 'Europe will face a 9/11 within two years' – Colonel Gaddafi's cousin
Al-Dam, the stolen gas was then trafficked to the northern part of the country and sold.
"There are two known cases of this chemical agent being stolen. I know this from my sources in Tripoli. In the first case, seven drums of sarin were stolen, and in the second, I think it was five."
And the destructive chemicals have already been used, said Ahmed Gaddafi Al-Dam, who formerly was one of Gaddafi's most trusted security chiefs. He recalled that during the recent clashes near the Al-Quds Mosque in Tripoli, security forces discovered a vehicle loaded with sarin.
"Unfortunately, those who had driven this vehicle into the city didn't understand the dangers of this nerve agent, and how risky it was to bring it into an urban area, let alone ever use it. I don't want to spread panic, but that's the reality. And the world knows this very well," he said.
Islamic State (IS, previously ISIS/ISIL) has already used chemical weapons in Iraq and Syria, according to numerous reports.
Earlier this month, Eren Erdem, a member of Turkey's main opposition party, the Republican People's Party (CHP), told RT that IS terrorists in Syria had received all the necessary materials to produce deadly sarin gas via Turkey.
You can share this story on social media: