Las Vegas mass shooting suite must be preserved, court orders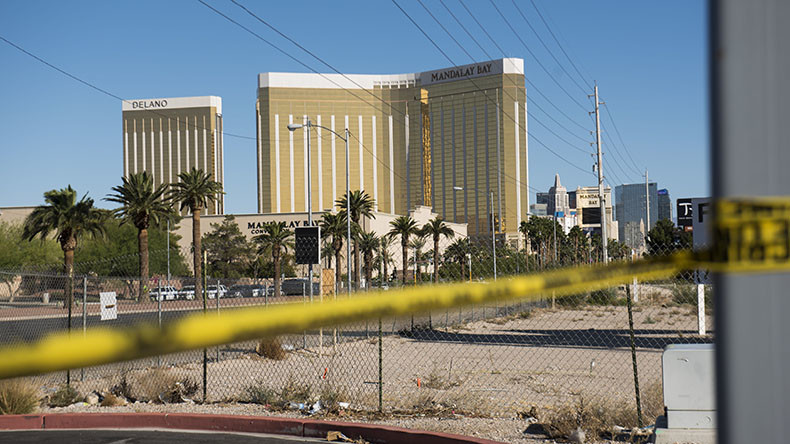 A court has ruled that the luxury suite used by the Las Vegas gunman who carried out the October 1 attack is to be preserved, along with photos, surveillance video, gambling records and anything else pertaining to the atrocity.
Stephen Paddock used modified semi-automatic weapons to kill 58 people and injure 546 others before turning the gun on himself.
READ MORE: Las Vegas hotel security guard reappears on TV after mysterious absence
Clark County District Court Judge Mark Denton approved a temporary restraining order against MGM Resorts International on Thursday, Las Vegas Now reports, forcing the company to preserve information relating to the room, the hotel and the festival grounds where the shooting took place.
The order was sought by lawyers on behalf of Rachel Sheppard, a 27-year-old woman from Tehachapi, California, who was shot three times at the Route 91 Harvest Festival on October 1. She is still recovering from the attack.
Stephen Paddock sprayed 200 bullets into the hallway of the Mandalay Bay, injuring a security guard, before opening fire at the concert crowd gathered below.
Aside from MGM Resorts International, the lawsuit also names Paddock's estate, the concert promoter and the Texas company that manufactures a device police say the gunman used to make semi-automatic weapons fire almost continuously, as defendants.
"Our concern is that before the discovery period starts, something bad could happen. That something could be altered, something could be destroyed. They said in court today, they're already looking at fixing or changing that room," said Sheppard's attorney, Brian Nettles.
READ MORE: Las Vegas shooter fired at fuel tanks as part of escape plan, sheriff says
MGM lawyers argued the request was broad and unnecessary, since that material was already being preserved for law enforcement. In a statement, the company said it has no intention of renting the Mandalay Bay suite used by Paddock and is cooperating fully with the investigation.
RT.com has reached out to MGM for comment.
You can share this story on social media: