Las Vegas shooter fired at fuel tanks as part of escape plan, sheriff says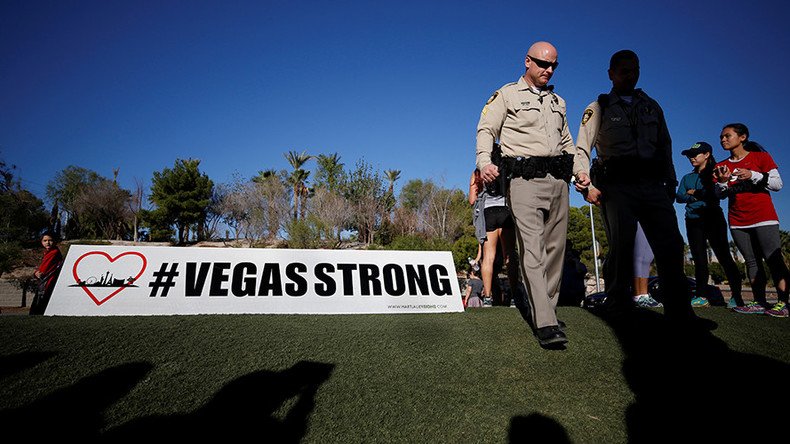 Las Vegas police now say that a security guard found gunman Stephen Paddock drilling a hole into the wall before he began firing into the crowd, a change in the original timeline of the massacre. The county sheriff also said Paddock had an escape plan.
At a Monday press conference, Clark County Sheriff Joe Lombardo told reporters there were "minute" changes to the original series of events that were given to reporters.
Originally, police said that Jesus Campos, a security guard at the Mandalay Bay, was shot by Paddock as he was opening fire on the concertgoers. However, Lombardo said that investigators have since learned that Campos "was encountered by the suspect prior to his shooting to the outside world."
Lombardo also corrected earlier accounts that Campos was responding to an alarm from Paddock's room being open. He said that the alarm was another open door on that same floor.
When Campos reached the 32nd floor, Lombardo said that he heard drilling coming from Paddock's room. He added that Paddock had not finished drilling, but said that he was probably drilling a hole in the wall to place a camera or a rifle.
When asked about reports of a note found in Paddock's room, Lombardo said that those were incorrect.
"There was not a note in the suspect's room. We recovered a document that had numbers associated to it," Lombardo said, adding that he was not able to make a guess as to why it was found in his room.
Lombardo also stated that Paddock checked into the hotel on September 25, three days earlier than the police previously reported. However, Lombardo said that investigators believe that Paddock was "not occupying the room between those days."
"We're trying to confirm his actions between the 25th and the 28th," Lombardo said.
Police also said that the shooting only lasted 10 minutes, when they previously said it lasted for 11 minutes.
Lombardo said that he believed Paddock was planning an escape route and was going to shoot at fuel tanks below to cause a distraction.
"We know that he attempted to shoot at the fuel tanks. We know that he had some personal protection equipment in the room. We know that the car that was down in the parking garage still contained binary explosives," Lombardo said. "Depending on the 'splash' he made during the shooting, would it enable the first responders to be directing their attention to other locations, which would enable Mr. Paddock to just leave the hotel."
Lombardo said that the explosives were not set up to detonate with a trigger, but added that police do not know "whether he had planned to cause additional harm outside of what occurred at Mandalay Bay."
Lombardo said that the Las Vegas Metropolitan Police Department (LVMPD) has been working on the case with the FBI and Bureau of Alcohol, Firearms, Tobacco and Explosives (ATF) "around the clock" to uncover the motive behind the shooting, but they are still coming up short.
"This individual purposefully hid his actions leading up to this event and it is difficult for us to find the answers to those actions," Lombardo said.
Lombardo said that police have found "some evidence" Paddock was taking medication, however, he added that it has not led to a motive.
"A comprehensive picture is being drawn as to the suspect's mental state, and currently, we do not believe that there is one particular event in the suspect's life for us to key on," Lombardo said.
Lombardo reiterated that police have found no evidence to show that there was a second shooter or any evidence that he was "linked or had any affiliation with any known terrorist groups or ideologies."
"We have uncovered over 200 instances of the suspects' traveling throughout Las Vegas and he has never been seen with anyone else," Lombardo said.
Investigators are also unsure why Paddock decided to stop shooting.
Lombardo said that authorities are interviewing Paddock's brother, Stephen Paddock, who was in Las Vegas on Monday. Police are also talking with other family members and his girlfriend, Marilou Danley, about who he came into contact with before the shooting, his movements, gun purchases and "anything else we need to know about him and how he planned his assault."
"Every piece of information we get is one more piece to the puzzle in this case," Lombardo said.
The sheriff said that investigators plan to continue working at the Route 91 site and at Paddock's room in the Mandalay Bay for at least another week, evaluating all the electronic equipment associated with Paddock and other evidence from the scene.
On Monday, the LVMPD announced that the FBI has started to return personal effects that were left behind at the scene of the crime.
"You really don't understand the magnitude until you see the rows and tables of personal belongings left behind as the people fled," Lombardo said.
You can share this story on social media: