Oklahoma ex-cop convicted of killing daughter's black boyfriend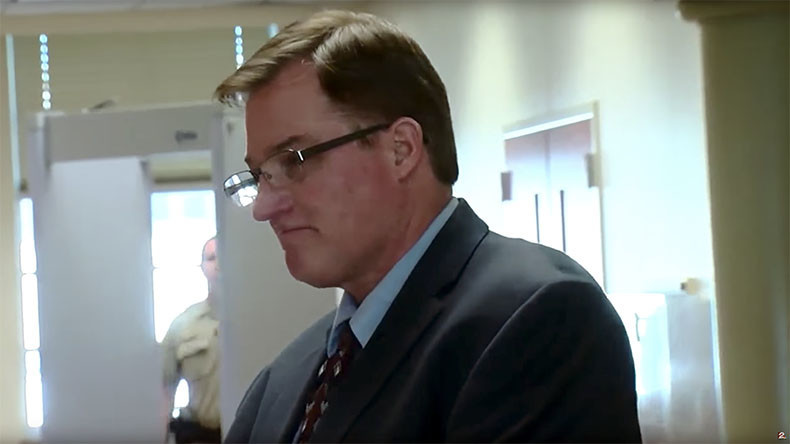 After three mistrials on murder charges, jurors have convicted a former Tulsa, Oklahoma police officer of first-degree manslaughter for the off-duty shooting of his daughter's African-American boyfriend.
Shannon Kepler was charged with the shooting death of Jeremey Lake, who had just started dating his teenage daughter, Lisa, according to AP. The jury deliberated for six hours before finding Kepler guilty on Wednesday.
The former police officer testified four times that he had become aware of his daughter's romantic relationship with Lake through her Facebook page, and that she had met Lake at a homeless shelter. The relationship had been a major source of conflict at home.
"You want your children to have a better life than you do," Kepler told the court, starting to cry, according to Tulsa World. "You can't help them if they won't accept help."
His attorney, Richard O'Carroll, said the 24-year police veteran was trying to protect his daughter because she had run away from home and was living in a crime-ridden neighborhood.
On August 5, 2014, Kepler went to the home where Lake lived with his aunt, to share with his daughter the information about her boyfriend that he had obtained from the police department, which made him concerned for her safety.
"And now the hunt is on," District Attorney Steve Kunzweiler said, describing Kepler's next steps, according to Tulsa World. "He is the guy who sets the time for the altercation. He is the guy who picks the car. He is the guy who picks the gun."
Prosecutors said Kepler first watched his daughter and Lake from his SUV, before approaching them on the street. Kepler testified that his daughter didn't want to talk to him, and that Lake put himself between them while telling him she was "his girl."
Kepler said that he shot Lake because he wasn't given a choice, adding that he pulled the trigger because he saw Lake pull a semi-automatic weapon out of his pocket. Kepler said he fired more than one shot because Lake kept reaching for his gun.
Lake's aunt disputed Kepler's self-defense account and said her nephew was reaching out to shake Kepler's hand and introduce himself when the officer fired. Police did not find a weapon on Lake, or at the scene of the shooting.
Lisa Kepler testified against her father.
'It was him or me' Shannon Kepler ex Oklahoma cop convicted in murder of Jeremy Lake teen daughter's mixed boyfriend https://t.co/CNHwYKhSyP

— Scallywagandvagabond (@ScallywagNYC) October 19, 2017
"It's about the fact a kid got killed in the middle of the road, and Shannon Kepler and Jeremey Lake deserve a verdict," Assistant Director Attorney Kevin Gray told the court. "This is his mess. He is sitting here in front of you because of his choices."
The former police officer was charged with murder, but went through three mistrials in which jurors ended up being deadlocked. The issue of race became an undercurrent in each trial.
Only one African-American was selected for each jury, prompting accusations by civil-rights activists that Kepler's attorneys were purposely trying to exclude potential black candidates.
Kepler himself confounded the race issue by arguing that he was 1/128th Muscogee (Creek) and therefore should be tried by that Native American tribe. While the shooting happened inside Creek Nation territory, it also fell under the jurisdiction of the city of Tulsa. A judge eventually ruled that the fourth trial in less than a year could move forward in state court.
The jury recommended a sentence of 15 years in prison and a $10,000 fine. A sentencing hearing is scheduled for November 20.