'Sex brings down kingdoms': Massive prostitution sting results in 277 arrests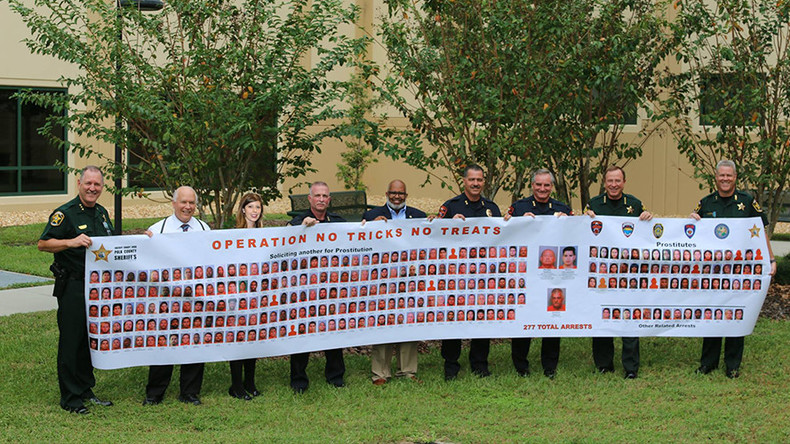 A week-long undercover operation by cops in Polk County, Florida which targeted human traffickers and online prostitution ended with 277 arrests. Among those caught were doctors, teachers, police officers and a serving colonel in the US Marine Corps.
The sting operation, dubbed "Operation No Tricks, No Treats", ran from October 10 to October 16. Of the 277, 51 of the arrests were for those who advertise as prostitutes online, 209 were of those who "solicited undercover detectives who posted ads posing as prostitutes. Seventeen other arrests were made of those who derive proceeds from prostitution, or other offenses," police said.
"We are committed to fighting human trafficking, by arresting those who engage in prostitution and trying to identify human trafficking victims. It's no secret...you need to stay out of Polk County if you're going to commit crime," said Polk County Sheriff, Grady Judd.
During the operation, undercover detectives posted fictitious ads across various social media platforms, websites and apps. Detectives either posed as prostitutes or those wanting to avail of their services.
According to police, "215 suspects drove to Polk County from various counties across Florida; or were visiting Florida from: Alabama, California, Delaware, Georgia, Louisiana, Michigan, Missouri, New Jersey, New York, North Carolina, Oregon, Tennessee, Texas, and Virginia."
The youngest suspect arrested was 16 years old, and the oldest suspect was 74. Among those arrested was one of their own, now-former Sergeant Luis Diaz, who resigned from the force after 17 years following his arrest.
"We are absolutely embarrassed," Judd said. "We hold our own accountable. He messed up and no longer works for the Sheriff's Office."
"Sex sells," he added. "It's the most powerful thing in the world, and it brings down kingdoms."