Clinton: I won't run for White House in 2020
Published time: 18 Oct, 2017 11:14
Edited time: 19 Oct, 2017 10:58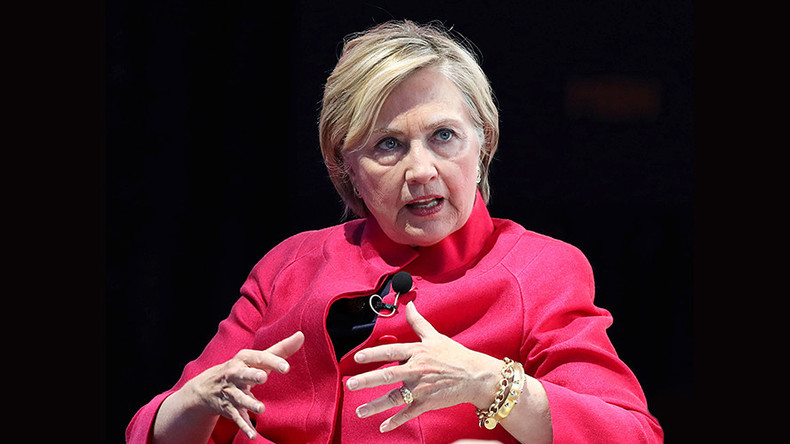 In an announcement that will come as a blow to Hillary fans, the former first lady, secretary of state and presidential candidate has said she will not run again, though she will continue to speak out about Donald Trump.
Speaking to BBC Radio 4's 'Woman's Hour' on Tuesday, while on a promotional tour to sell her new book 'What happened', Clinton revealed that by not running, she's better placed to "magnify" her voice.
"No, I'm not going to run again," Clinton said. "I think I'm in a position where my voice will actually be magnified because I am not running, and there's a very good basis, as we watch Trump's support shrink, that people will say, 'Well, what she said was right and now where do we go from here?'"
Her announcement will come as a disappointment to Trump who, before the interview aired, tweeted that he hoped the two would face off once again.
I was recently asked if Crooked Hillary Clinton is going to run in 2020? My answer was, "I hope so!"

— Donald J. Trump (@realDonaldTrump) October 16, 2017
Though she will not contest the presidency. Clinton told the show that she will remain active in politics.
"I'm trying to make the case about what we need to do so that what happened in my election doesn't happen again," she said. "But I'll also be raising money and support for candidates and causes I believe in. And I'll be supporting the Democratic Party in the elections this year, next year and 2020."
Clinton described her moment of realization that Trump would be the victor as a "devastating personal loss," and that she felt "particularly terrible that someone I thought was not qualified or temperamentally suitable to be president was going to assume that office."
Clinton also detailed how she was confident she was in winning, even revealing the details of what would have been an elaborate victory party.
"I thought I was going to win, I thought I would have both the awesome responsibility and great honor of being the first woman president," she said. "We had planned for our election night celebration, an event at our big convention center in New York City that actually had a glass ceiling."
Had she won, "very smart people" would have made it look like "crashing glass… without hurting the ceiling of course."
Clinton also admitted that she had not worked on a concession speech, only one "celebrating a victory" before it all "came crashing down."