Trump: Total termination of Iran nuclear deal is a 'very real possibility'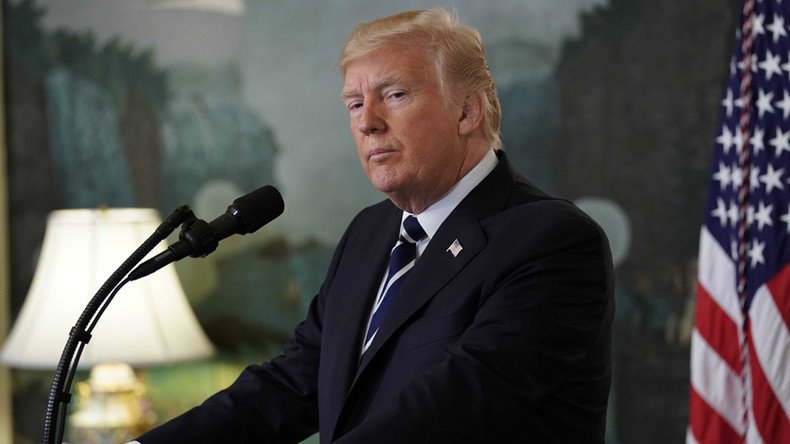 US President Donald Trump said that a total termination of the Iran nuclear deal is a very real possibility. Meanwhile, Tehran has said it detailed a plan of action in case Washington backs out of the deal.
"We'll see what phase two is," Trump said on Monday in a cabinet meeting while talking about the Iran nuclear agreement. "It might be a total termination. That's a very real possibility."
"I'm tired of being taken advantage of as a nation," Trump said, calling Iranian leaders "great negotiators" who "negotiated a great deal for themselves, but a horrible deal for the US."

"We'll see what happens," the president concluded.
On Friday, President Trump opted to not certify the 2015 nuclear deal, which does not formally terminate the agreement struck by the previous administration of Barack Obama and world powers including Russia, France, Germany, the UK, and China.The move immediately triggered an outcry from other signatories. On Monday, French Foreign Minister Jean-Yves Le Drian said he hoped "that Congress does not put this accord in jeopardy," speaking on behalf of the IAEA (International Atomic Energy Agency), the German chancellor, British prime minister, and French president.
Although certification of the deal is a separate procedure under US law, it obliges the president to report every 90 days on whether Iran is compliant and that the deal remains in US interests. However, Trump's announcement has left Congress 60 days to decide whether to re-impose sanctions, lifted in exchange for capping Tehran's nuclear activities.
In response, Iranian Foreign Minister Javad Zarif cautioned that Trump's disavowal of the deal would only harm Washington's credibility, adding that Tehran wouldn't walk away from the deal, as well as the other parties. Another warning followed Zarif's announcement, with Iranian Parliament speaker Ali Larijani saying that Tehran has "a plan." "We will take steps so that the Americans will regret it," he said.
You can share this story on social media: