Macklemore calls for 'kindness & acceptance,' then leads crowd in 'F**k Donald Trump' chant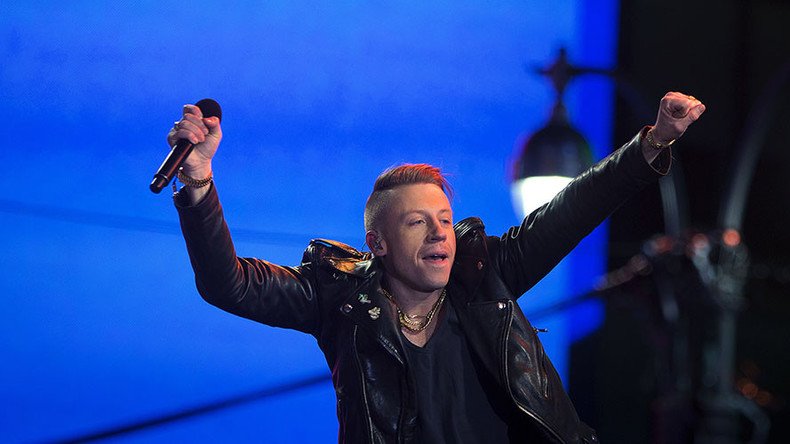 Rapper Macklemore led a chant of "F**k Donald Trump" in front of a sold out crowd during a concert in Arizona at the weekend.
Videos recorded by fans in the Marquee Theatre in Phoenix show the singer leading the crowd in the anti-Trump chorus while performing a cover version of 'FDT (F**k Donald Trump Part 2).'
Vanessa Richards, who attended the concert, told Fox News that the 'Thrift Shop' singer "gave a great and moving speech about inclusiveness and kindness and acceptance which led into his song 'Same Love'."
READ MORE: Eminem rips into Trump at BET Hip Hop Awards (VIDEO)
He also gave another speech about "immigration and acceptance" and told the crowd, "We should be welcoming and encouraging everyone to live the American Dream."
Richards added that the song was "one of the louder parts of the show, regardless of if people agreed or not," Richards said. "You didn't hear any boos or anything."
'FDT (F**k Donald Trump Part 2)' was released last year by YG and features Macklemore and G-Eazy. It peaked at number 50 on the Billboard Hot R&B/Hip-Hop Songs list.
WARNING: This video contains strong language.
The music video for the song shows footage from anti-Trump rallies during the 2016 presidential campaign.
Following Trump's election victory in November, Macklemore posted on Instagram that he was "disappointed, shocked and shaken at my core" by the result.
"I don't have control over Donald Trump becoming president. That has been decided. But what I do have control over is where I go from here," Macklemore said.
"I will teach my daughter to love. All people, regardless of the color of their skin, gender, religious beliefs, sexual orientation or where their birth certificate says they're from."
You can share this story on social media: